September 25, 2018
"This is the best day ever!" -Student at a Summer Reading Event
Share
A Recap of our Summer Reading Mini Grants
With the start of the school year and the first days of fall, our Summer Reading Mini Grants are coming to an end. This summer we awarded 30 mini grants totaling over $21,000 to Oakland public schools, preschools, community and faith-based organizations that brought hundreds of students and families together.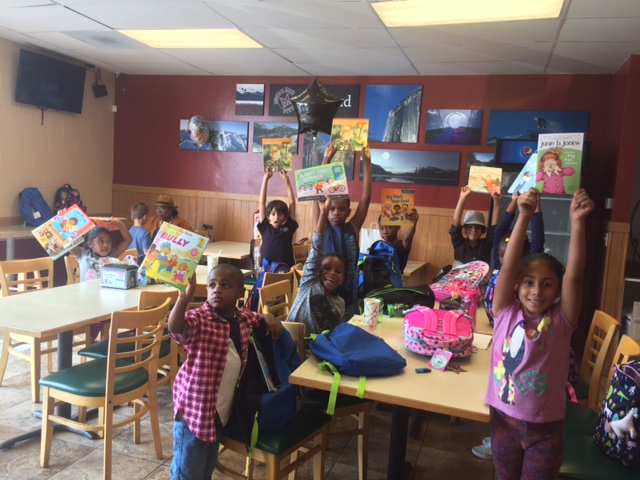 Sharon's Wings of Love reading group was a huge success!
Through the Oakland Reads campaign, Summer Reading Mini Grants support early literacy events throughout Oakland, promote a love for reading, and give out books to support families reading together at home. In addition to summer grants, we offer Family Reading Celebration mini grants for the academic school year.

The Oakland Reads campaign strives to dramatically increase third grade reading achievement, a critical foundation for future learning and success in school. Weaving together the strength of Oakland families, schools, and community partners, we are making possible a future where every child in our city can learn and love to read.
"The Summer Reading Fest with Lotus Bloom and the Oaks Center Cultural Center was a huge success! Families were invited to celebrate literacy by choosing books from a large, multicultural collection. We wanted families to have the space and opportunity to also meet new families and enjoy the day with each other." – Carla Jasso, Lotus Bloom Child and Family Resource Center
Our summer grantees infused literacy into a broad array of programming, including drama, art, and gardening! Landon Hill from the East Oakland Youth Development Center expressed the impact of their event on their students,"The students were excited to have new books with a variety of topics! Many students screamed in excitement when they saw books for Black Panther and Hidden Figures. The excitement for these books indicates to us that our students want more books that feature characters that look like them."
The Pasifika Center held a Community Playdate and 1st Annual Oakland Summer Reading Jubilee with the mini grant funding. The event featured story telling and a book giveaway featuring Melanesian, Micronesian, and Polynesian authors and activities for children and their families. Leilua Malieitulua an East Oakland parent who attended the event told us, "I loved the Pasifika play date! It was great to be surrounded by your own people as well as see our children interact with one another. It was refreshing to see books about our own cultures and to see the children get excited choosing their books. I think this was a great event and I will definitely be attending any other Pasifika play dates in the future."
Oakland youth and families celebrated reading all summer long! Photos from Acta non Verba, ASCEND, Community School for Creative Education, Lotus Bloom Child and Family Resource Center, Lower Bottom Playaz, Oakland Housing Authority, and St. Vincent's Day Home.
The end of our Summer Reading Mini Grants marks the beginning of our Family Reading Celebration Mini Grants! To learn more about how to apply for our Family Reading Celebration Mini Grants visit our website or find the application here.