Nothing is more basic, more essential, more foundational, and more important to a child's success in life than the ability to read well.
The OLC enables our coalition to achieve more powerful impact together to drive literacy outcomes and equity for all students.
Read the latest on how we've been making a difference in our 2021-2022 Impact Report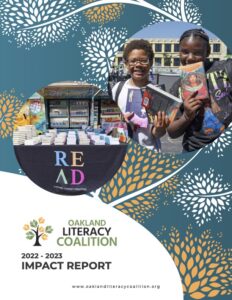 Our Strategies for Impact:
Cultivating Reading-Rich Environments
Expanding access to reading-rich spaces for children and their families to support learning and cultivate the love of reading
Families are their children's first teachers and should have quality, affirming, highly engaging books along with resources to support literacy development.
The OLC connects families to resources and books through our network of community partners.
We develop and curate tools to help families encourage reading at home. We give many thousands of books each year directly to Oakland youth.
Apply for a Reading Everywhere Action Grant
Building Capacity for Effective Literacy Programming
Literacy providers must be as effective as possible in their work with students.
Students deserve and depend on evidence-based and impactful literacy services to help them succeed. Literacy programs and practitioners must be supported to adopt practices that are proven to get results.
The OLC delivers continuous learning and capacity building for the adults supporting Oakland students' literacy development.
Through our training workshops and convenings, we elevate best practices, dig into expert research, and share what's working across agencies. Our flagship event, Literacy and Justice for All, is a dynamic literacy symposium for educators, literacy leaders and champions focused on the question, "How do we build a future where every young person is on a path to learn and love to read, and thrive in school and beyond?"
Check out our Events Page to see our upcoming events.
Visit our Meeting Archives
Building a Connected & Impactful Ecosystem
Literacy for all takes all of us.
Parents, schools, community groups — none of us can achieve citywide impact on our own. Our individual efforts are more effective when they build on one another instead of working in isolation or at cross purposes.
The OLC strengthens community networks and fosters productive collaboration across agencies.
We recruit and convene diverse stakeholders and enable them to align efforts, share resources, cross-pollinate ideas, and form new partnerships in service of kids and families.
Visit our Member Directory to check out our current members and learn how your organization can join the Member Network.
Become a Member
Working in Coalition to Impact Systems
Together with our community and coalition partners, we can advance systemic changes that are necessary to eliminate racial disparities and produce strong reading outcomes for all Oakland students.
Families and community members are powerful champions when equipped with information about how to support students, advocate for critical systems change, and ensure public accountability for outcomes and equity.
The OLC builds broad public awareness of the issues affecting literacy in Oakland and opportunities to take action.
We increase transparency and public understanding about the state of literacy in Oakland. We are a trusted source of information, providing tools to power community engagement.
Stay Informed through our Newsletter