September 18, 2023
The Oakland Literacy Coalition and OUSD Launch Oakland Reads, a Website to Support Kids' Reading Outside the Classroom
Share
Oakland, CA – [September 18, 2023] – The Oakland Literacy Coalition (OLC) and Oakland Unified School District (OUSD) proudly announce the launch of the Oakland Reads website, a groundbreaking resource designed to equip families, caregivers, tutors, and out-of-school time providers with tools to promote children's reading development. 
Oaklandreads.org, now live and accessible to the public in six languages, breaks down the essential skills that students need to learn to read and provides a roadmap for families and out-of-school providers to understand what students are learning in the classroom and how to support. The site brings academic milestones to life with short video explainers and hands-on activities that adults can do with children at home, in tutoring sessions, during after school programming, and more. 
The OLC's Co-Executive Director Cassie Perham shares, "We developed Oakland Reads in response to calls we heard from families, community organizations, and literacy providers to understand what reading skills their students are learning and how to help. We fundamentally believe all kids can learn and thrive with strong instruction, caring adults, and opportunities that affirm who they are and respond to their needs." 
To get an overview of how the brain learns to read, start with the videos on the How Reading Works page. This page directs users to specific pages for the eight main reading skills, and each of those pages has more videos, activities to do together, and community resources. 
To find information about what a child should be learning and practicing at a particular age or time in the school year, start on the Age/Grade Level Milestones page, which has links to developmental and academic milestone pages from birth through 5th grade. The site uses OUSD's Academic Milestones, which are based on California grade level standards and are applicable for a child at any school.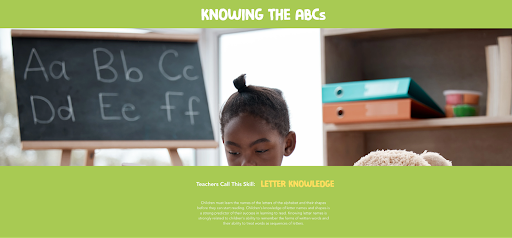 Oakland Reads provides resources and guidance for parents who are concerned that their child may be struggling with reading, including pages about dyslexia and how to request an assessment. 
Oakland Reads is also a hub to find additional tools and local literacy resources, including how to access the OUSD digital library, Sora, with thousands of free audiobooks and ebooks.
OUSD's Director of Early Literacy, PK-2, Romy Trigg-Smith, shares "After co-creating the OUSD literacy milestones with the Oakland Literacy Coalition, we wanted to make sure families and community members were given the tools and strategies to be true partners in supporting students' reading. Now we can refer people to the Oakland Reads website to quickly learn about the reading skills and domains that children are working on and learning at school. Families can find resources and fun activities to use to continue their children's learning at home. It has been a truly wonderful partnership between the OUSD Literacy Team and the OLC."
Oakland Reads is a powerful tool for enhancing literacy outcomes for children and empowering the adults who support their reading journey. 
For more information about Oakland Reads and to explore its wealth of resources, please visit www.Oaklandreads.org or see an intro video here:
Schools and community partners are encouraged to use the Oakland Reads outreach toolkit, containing digital flyers and an orientation presentation recording and slide deck, to let families know about the Oakland Reads site and how to use it.
###
About Oakland Reads:
Oakland Reads is a project of the Oakland Literacy Coalition in collaboration with the Oakland Unified School District (OUSD). This innovative website aims to empower parents, caregivers, tutors, and out-of-school time providers with the knowledge and tools needed to support children's reading development outside of the classroom. Grounded in the science of reading, Oakland Reads offers a user-friendly platform filled with educational videos, hands-on activities, and valuable resources to foster literacy success among Oakland's youth. The Oakland Literacy Coalition is a community-based nonprofit advancing a citywide literacy movement with the mission of working together to ensure that every Oakland child learns and loves to read. Oakland Reads was made possible with funding from partners including the Warriors Community Foundation, the Hellman Foundation, and Stephen & Ayesha Curry's Eat. Learn. Play. Foundation. The site is modeled after Read Charlotte's Home Reading Helper, and their content is used with permission.