April 27, 2018
Bringing the Excitement of Reading across Oakland
Share
Family Reading Celebrations
With June fast approaching our school year Family Reading Celebrations mini grants are coming to an end. This 2017-2018 school year we awarded 48 mini grants totaling over $45,000 to Oakland public schools, preschools, and community based organizations bringing hundreds of students and families together.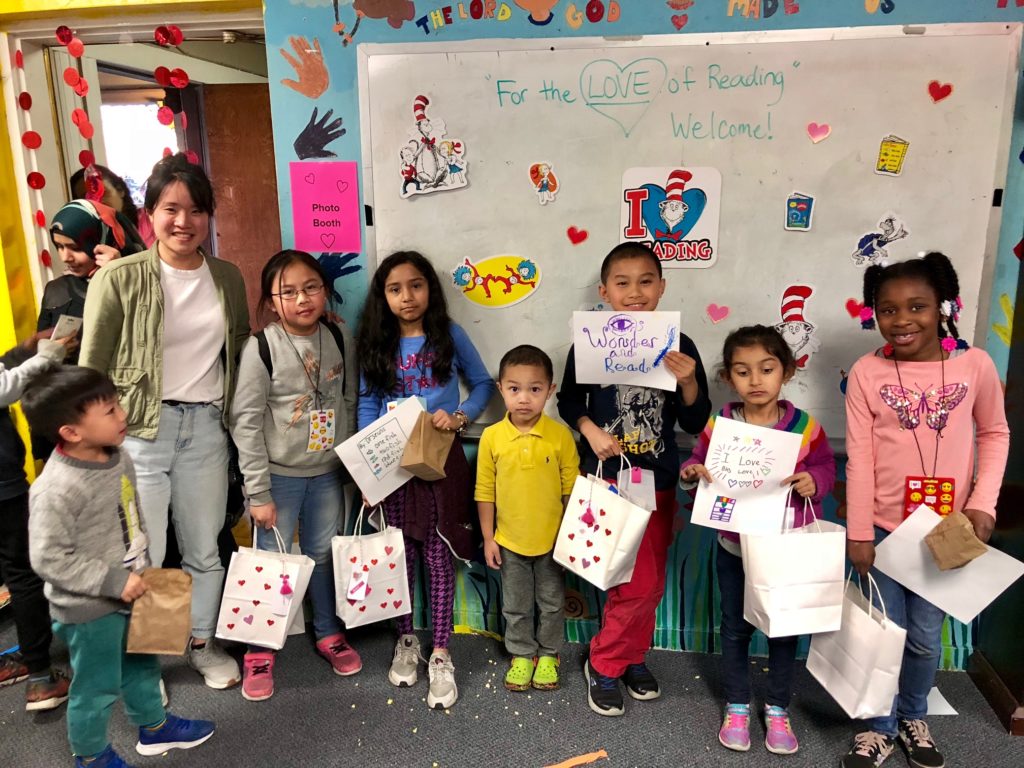 Harbor House Valentine's Day themed Reading Celebration was a huge success!
Through the Oakland Reads campaign, Family Reading Celebration mini grants offer support to early literacy initiatives throughout Oakland, promote a love for reading, and give out books to support families reading together at home. 
The Oakland Reads campaign strives to dramatically increase third grade reading achievement, a critical foundation for future learning and success in school. Weaving together the strength of Oakland families, schools, and community partners, we are making possible a future where every child in our city can learn and love to read.
"We had nearly 500 old and new books to giveaway, and students walked away with grocery bags full of new reading materials. Once the ribbon was cut, families took group tours of our library, and students were able to check out their very first books from the room…[The event] built up a lot of buzz around the opening of our library, and students are already asking their parents when they can come back…Our goal was to get kids more excited about reading, and this new reading space has added so much value to our school's efforts around reading."- Sharon Jan, Harbor House
For Franklin Elementary School, Munera Mohsin decribes their Reading Celebration as a night to remember. "We greeted families at the door and handed them book markers and colored crayons…As families settled in the story teller began her theatrical performance and began her story telling. The kids as well as the parents really enjoyed themselves. After the storyteller finished we asked families to follow teachers based on the language they preferred (Spanish, English, Arabic, Chinese, Farsi) for a reading workshop." She says that during the event,
"Families had a chance to learn ways to support the child at home with reading" and overall, "The event was really great with a huge turn out."
Brighter Beginnings hosted two seperate events with their mini grant. One reading celebration took place in October and hosted their Teen Family Support Services program while the second event, Read & Joy Celebration, took place in December. Their Read & Joy Celebration brought together families involved with Early Head Start to celebrate the holiday season and of course receive some new books to take home. Lucy Rios, the Development and Executive Associate of Brighter Beginnings, said "One child kept hugging her books and her mother let us know that it looked like her child was going to be a librarian in the future!"
The end of our Family Reading Celebrations marks the beginning of our Summer Reading Mini Grants! To learn more about how to apply for our Summer Reading Mini Grants visit our website or find the application here.
Kids celebrate reading all school year long! Photos from Aspire Public Schools, Daddy and Me event hosted by Tandem, Partners in Early Learning and LitLab at Children's Fairyland, and Aspire College Academy.