October 20, 2023
Welcoming Debbie Gibbons: District Teacher Librarian for OUSD
Share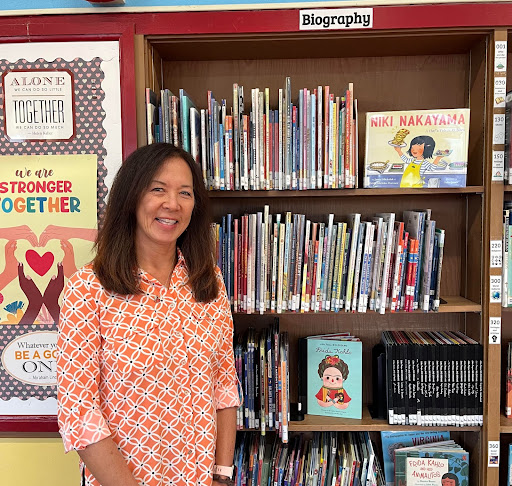 By Leigh Carroll, School Library Partnerships Program Coordinator
I recently sat down with Debbie Gibbons, newly hired as District Teacher Librarian (but 30-year OUSD veteran!), in the charming Bella Vista Elementary school library, to learn more about Debbie and her role.
The Oakland school library landscape has undergone a remarkable transformation in the past three years. This current school year, OUSD boasts an impressive count of 67 professionally staffed school libraries, coinciding with the exciting news that Debbie Gibbons has accepted the role of district teacher librarian.
Debbie began her career in OUSD as a classroom teacher at Bella Vista Elementary, where she taught kindergarten, first and fifth grades. Later, she took on the role of computer teacher in a classroom adjacent to the school's library, before earning her teacher librarian credential and becoming Bella Vista's teacher librarian. Debbie had the honor of being awarded the Ann Mayo Gallagher Scholarship in 2017. Her journey into library services has been greatly enriched by the support she received from Friends of Oakland Public School Libraries (FOPSL), for which she is profoundly grateful.
Beyond the shelves: the role of the district teacher librarian
District librarians play a pivotal role in ensuring that libraries within a school district function effectively. Beyond managing the allocation of books and resources, their responsibilities encompass a wide range of activities that contribute to the growth and development of libraries.
OUSD is beyond fortunate to have Debbie, a credentialed teacher librarian, in this leadership role, as she is able to ensure that the school libraries are integrated with the curricula.  Research has consistently demonstrated that this integration positively impacts student achievement. This becomes especially important at the high school level, Debbie points out, as this is where the library functions as a research and information center. 
One of Debbie's first priorities this school year was to get the staff up to speed and create a culture of shared knowledge and collaboration. 
"At the beginning of the year I was mostly busy working with the new library staff, now I am looking at more experienced library staff to share what they are doing," she said. "I act as a conduit for all this information between staff members." 
Debbie is also gathering data about the library landscape, visiting each site and assessing the collection and resource needs. This ensures that resources are distributed equitably, by prioritizing schools with the highest need.
District librarians also take on the crucial task of maintaining the collection development policy, and ensuring that it aligns with the larger goal of fostering inclusive libraries that authentically reflect the community they serve. By proactively equipping library staff with the language and knowledge to defend their positions, Debbie helps ensure that the library community is positioned for potential book challenges.
Debbie has given herself three overarching goals for her tenure as DTL:
 To take responsibility off the plates of the LLT (library leadership team) who were previously handling management and training responsibilities in addition to their regular library jobs.

 To become indispensable so the district will never eliminate this position.

 To make this job look so fun that recruiting other district librarians for OUSD will not be an issue.
Building connections between school libraries and literacy
School libraries, Debbie emphasizes, are not just rooms with books. The distinguishing feature of a school library is the person or people on staff who know both the books and the kids well enough to make the connections between them. This connection is what creates lifelong readers.
School librarians are community builders as well. Debbie greets students at the gate every school day, getting to know both the students and their families. She talks to parents about their children's reading interests, nurturing a culture of reading that continues from school to home. For Debbie these connections run deep: if she wins millions in the lottery, she promises, she'll come back and work in Bella Vista's library.
What's on Debbie's nightstand?
Vera Wong's Unsolicited Advice for Murderers, Breasts and Eggs by Mieko Kawakami, and Mad Honey by Jodi Picoult and Jennifer Finney Boylan.  She's also got Dave Eggers' new illustrated adventure The Eyes and the Impossible queued up.