September 11, 2023
School Library Volunteer Opportunities
Share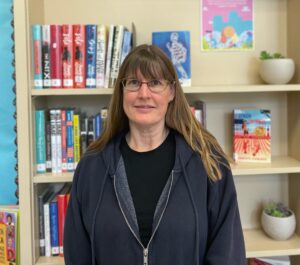 Looking for a Way to Contribute? School Libraries Need You!
Oakland school libraries are in search of dedicated volunteers to enrich the learning experience for students of all ages. Volunteers play a vital role by expanding library resources available to our students and supporting staff with their multitude of responsibilities.
Kathy Hales, library tech at Edna Brewer Middle School, began her journey in librarianship as a volunteer at Glenview Elementary. She emphasizes that each volunteer brings a unique and wonderful contribution to the library. Kathy recalls a retired educator who volunteered regularly at Glenview. This volunteer not only carefully selected a captivating book to read to students each week but also brought tangible objects related to the story, creating deeper connections and further sparking the interests of young readers.
When community members become volunteers in the school library, they develop a sense of ownership and pride in the institution. This fosters greater awareness of the essential role school libraries play and creates additional advocacy channels for library needs, ensuring continued support.
There are a wide range of opportunities available at elementary, middle, and high schools. Whether commiting to a weekly shift, a bi-weekly shift, or occasional special projects, volunteer help is invaluable.
Our OUSD school libraries are seeking volunteers to assist with:
Reading to classes and engaging with small groups of students

Providing circulation support, reshelving books, and offering extra hands during classroom visits

Shelf reading and tidying, maintaining an inviting and organized library space

Assisting with processing new library books, including applying protective coverings, barcodes, and spine labels

Weeding, de-processing books, and moving boxes to recycling
We understand that your time is valuable, and we are grateful for any amount of time you can spare. Whether you can volunteer on a regular basis or occasionally, your contribution will be valued and make a positive impact. 
Thank you for supporting school libraries and the school library partnerships program!
Contact leigh@oaklandliteracycoalition.org for more information.