July 1, 2019
Celebrating our Mini Grants Program
Share
We wanted to take time to reflect and celebrate the past school year we had filled with Family Reading Celebrations as well as celebrate the new cycle of grantees!
The OLC has been providing mini grants to community based organizations, schools, and nonprofits throughout Oakland since 2014. Mini grants are grants between $250-$1,000 that organizations use towards holding family literacy events. The Mini Grants model was designed to empower the communities we work with—for them to design an event for them, by them. We give them the resources and examples of past events and let them decide what is the best way for these events to happen in their communities. 
Family Reading Celebration Highlights
This past year has been filled with such amazing Family Literacy events throughout Oakland, reaching different communities in fun and innovative ways. For the 2018-2019 school year mini grants cycle we were really intentional about our reach. We wanted to make sure we were awarding throughout all areas of Oakland and that events were happening throughout The Town. Our focus was to elevate organizations that were not only working in schools with literacy but different organizations as well. Throughout the school year events were hosted at community organizations, faith-based organizations, and schools. Here are some of our highlights:
Attitudinal Healing Connection
Attitudinal Healing Connection is an organization that focuses its mission on empowering individuals to be self-aware and inspired through art, creativity and education, making positive choices to break the cycle of violence for themselves and their communities. They hosted a literacy event to foster a love of reading in children and families and to encourage families to read with their children. They connected families with culturally and linguistically responsive resources and had a goal of teaching families to include literacy and art as a part of their daily routine.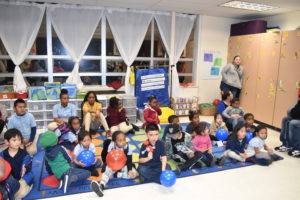 Bridges Academy
Bridges Academy held their annual "Meet the Authors!" Family Reading Celebration. Their goal was to engage parents in highlighting and celebrating student reading and writing progress over the course of the year and educate parents about how to support their child's reading and writing development at home, especially during the summer. They also aimed to help parents provide literacy support at home by connecting families to the Oakland Public Library and other community organizations and provide every student with one free book to read for the summer. Bridges did a great job in engaging parents, specifically Spanish-speaking parents.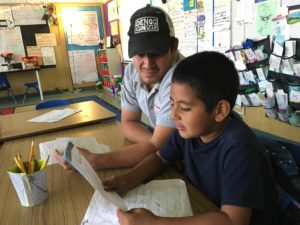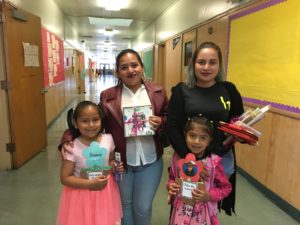 Oakland Asian Cultural Center
Oakland Asian Cultural Center held their Family Reading Celebration during the Annual Lunar New Year Celebration. The program featured book readings by: Suzanne Lo, Sine Hwang Jensen (UCB Ethnic Studies Library), and Matilde Hollander (Bilingual Books). Between and after the read-alouds, families could participate in free sessions by Kids Go Mandarin! of music, creative movement, Mandarin language, storytime for a target audience of 0-6 year olds, and a shadow puppet show and puppet-making workshop open to all ages. Ninety-three free books geared towards ages 0-9 were distributed.

Maya Angelou Library and Literacy Center
Maya Angelou Library and Literacy Center held their Family Reading Celebration and highlighted achievements of lesser-known Black inventors and scientists. The event featured a book reading by Tamara Shiloh, author of "Jaxon's Magical Adventure with Black Scientists and Inventors" who also discussed the importance of incorporating African-American History with American History. This was followed by science activities and experiments by the children in groups. The facilitator of each group engaged the children in lively discussions of the experiments and of the inventors and scientists.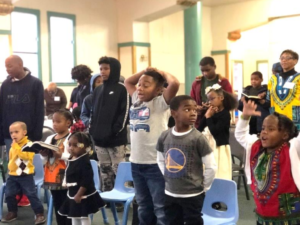 Mini Grants by the numbers
Throughout the school year we had  a total of:
56 events were held
Collaborated with 30 nonprofit, faith, community-based organizations and 20 Oakland Schools
4,127 students and 3,013 parents engaged
Distributed a total of 8,345 books 
Congratulations to our 2019 Summer Grantees
Witnessing the creativity and the different approaches all these organizations had towards literacy excited us and it helped guide us through the decision-making process for our 2019 Summer Grantees. This summer, we prioritized a diverse range of organizations that are engaging their local community in new ways, are meeting the diverse language and cultural needs of our city, and are shining a light on literacy and adapting learning in new and creative ways. Our intention when reviewing the applicants was to ensure that each proposed literacy event was innovative, creative, reached a community we haven't been able to reach, and above all shared our vision in creating resources for families to participate in literacy. Congratulations to our Summer Grantees: 
Aspire Education Project                                                                                
BANANAS Inc. 
Bay Area Parent Leadership Network 
Children's Home Society of California 
Community Education Partnerships 
Community School for Creative Education
Community United Elementary School 
Cox Academy 
Dr. Herbert Guice Christian Academy 
East Oakland Youth Development Center 
Evergreen Baptist Church, Inc. 
Faith Network of the East Bay 
Family Support Services of the Bay Area 
Girls Inc. 
Harbor House Ministries 
Lake Merritt United Methodist Church 
Les Petits Francophones
Lincoln
Lockwood Child Development Center 
Lotus Bloom Child and Family Resource Center 
Lower Bottom Playaz 
Manzanita SEED Elementary 
Mindful Littles 
Oakland Housing Authority 
Safe Passages 
St. Mary's Center Preschool 
Tapestry Church 
Teaching Self Sufficiency Through Education 
United Lutheran Church of Oakland 
We are excited to see what our 2019 Summer Grantees create this summer and are happy to have them in our journey of ensuring all kids in Oakland learn and love to read!
Are you interested in supporting this work? Click here and support us in raising money for our Fall Grantees!