August 15, 2023
Member Spotlight: Springboard Collaborative
Share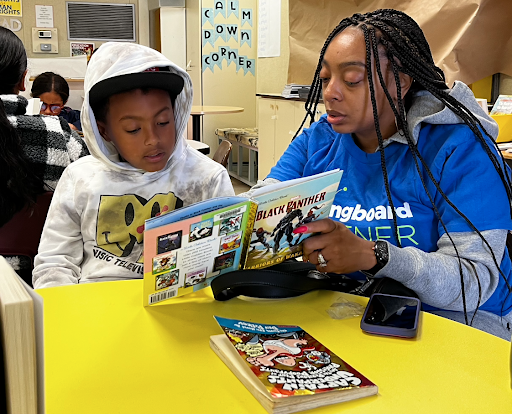 We had the opportunity to talk with Springboard Collaborative Executive Director Teresa Arriaga about the summer literacy programs they run in OUSD schools and their model for bringing families into their children's classrooms and reading practice. 
How does your organization support literacy in Oakland?
Springboard Collaborative coaches district teachers to improve their instructional practice while facilitating partnerships with family members who are trained to cultivate enduring reading habits at home. The goal is to shrink the gap to grade level reading proficiency as a result of the 5-week summer engagement and to seed new ways of engaging families as partners in teaching and learning. In 2022, 98% of families participated alongside their students in Springboard's OUSD summer program.
What sets Springboard Collaborative apart from other organizations with similar missions?
Our secret sauce is connecting teachers with families so that families learn tools to accelerate reading at home.
What's on the horizon? What community programming or events are coming up that your organization is most excited about and why?
Springboard: Summer 2023, we are working with 15 students across 11 school sites. Final activities happen the week of July 3rd!
Is there anything that you wish more people knew about your organization or the issues you are trying to solve?
Springboard: We approach literacy acceleration by helping teachers, students, and families and are excited to collaborate with other CBOs this summer. We hope to work with more Oakland schools after school in 2023-24.
What's a recent learning that is shaping how you approach the work?
At a recent family workshop, one dad asked that educators not underestimate how much families are willing to be involved in their child's education.
What does Literacy & Justice for All mean to you?
Reading is a basic right!