October 6, 2023
Member Spotlight: Lexia Learning
Share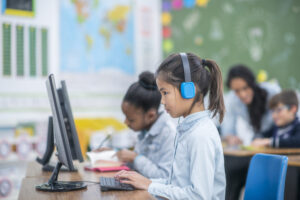 We recently had the chance to talk to Brian Heger from Lexia Learning about how they support literacy for Oakland students. The next educational offering Lexia is hosting is coming up on October 23-27, 2023: Emergent Bilingual Week.
How does your organization support literacy in Oakland?
Lexia helps Oakland learners read, write, and speak with confidence. We provide the science of reading-based literacy solutions that support every student and educator. With a comprehensive suite of professional learning, curriculum, and embedded assessment solutions, Lexia helps schools connect educator knowledge with practical classroom instruction to accelerate literacy gains and English language proficiency.
What sets you apart from other organizations in your community? Or from other organizations with similar missions?
Lexia has had a singular focus on structured literacy solutions for the last 40 years. The quantity and quality of efficacy research on Lexia products are unparalleled. Lexia currently has more than 20 studies that have been published in independent, peer-reviewed journals and meet the standards of evidence required under the Every Student Succeeds Act (ESSA).
Lexia adopts an asset model that focuses on what students can do – their strengths, skills, talents, interests, and competencies. Learners' backgrounds, heritage languages, and cultures are celebrated as an asset and not viewed as a deficit.
Lexia's adaptive blended learning model continuously adjusts learning paths based on student performance, providing each student with the personalization needed to progress. In addition to this, Lexia's patented Assessment Without Testing (AWT) technology provides simple and actionable real-time data tied to instruction, saving teachers valuable instructional time.
Finally, Lexia® LETRS® provides a professional learning course of study based in the science of reading for elementary educators. The course teaches the how, what, and why of literacy acquisition to improve instructional practice and achieve long-term systemic change in literacy instruction. LETRS is an International Dyslexia Association® (IDA)-Accredited Program and meets the IDA standards for teachers of reading.
What's on the horizon? What community programming or events are coming up that your organization is most excited about and why?
​​Lexia will be hosting several free, week-long educational events in the second half of 2023. All educators are invited to participate in these learning opportunities:
National Dyslexia Week: October 1-7

National Language and Literacy Week: October 22-28

National Inclusive Schools Week: December 3-9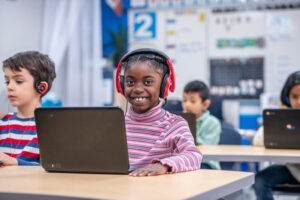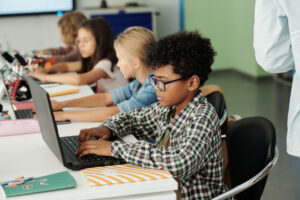 Is there anything that you wish more people knew about your organization or the issues you are trying to solve?
Lexia's solutions are research-proven to accelerate literacy growth and improve English language proficiency for California learners.
When using Lexia PowerUp Literacy, 58% of California adolescent striving readers covered three grade levels of skills in a single year.

When using Lexia English Language Development, California students scored 15 points higher on the overall ELPAC and 18 points higher on the ELPAC oral domain.

When using Lexia English Language Development, 2 in 5 students advanced to the next California ELD proficiency band.

When using Lexia Core5 Reading, the percentage of students working on material in or above grade level grew from 42% to 82% during one school year.
What are you most looking forward to as a member of the Oakland Literacy Coalition?
Connecting with educators to better understand the challenges they face in improving student literacy so we can partner on strategies to improve grade-level reading proficiency for every learner.
Could you share an anecdote/experience about working with a student, teacher, or parent that really stood out for you?
At a conference in Palm Springs earlier this year for teachers, one parent/teacher brought a group of fourth-grade students. As they made their way through the vendor booths, they spotted us and ran over excitedly as if we were familiar faces. They began sharing with us, and each other, what level they were on, what they were learning, the different places in the world they'd visited in the program, and the stories/activities they learned and worked on in the program. 
They were genuinely excited. Their teacher told us how much they enjoyed using Lexia and how much progress they'd made throughout the year. The teacher thanked us for creating a program that actually moved the needle for their kids.
As a company that prides itself on its systematic design and efficacy, it's nice to know and see firsthand that students and educators actually enjoy using our programs, which contributes immensely to its effectiveness.
What does Literacy & Justice for All mean to you?
Lexia is all for literacy because we know that literacy can and should be for all. Literacy is essential to an individual's ability to communicate, express themselves, and engage with the world around them. Lexia believes everyone has a right to literacy and that, as educators, we have an obligation to deliver. Every student deserves to be taught literacy in a way that works for them, no matter who they are, where they live, what level they are at, and what learning challenges they face. Every teacher deserves the support they need to teach literacy confidently and effectively.
Learn more about Lexia Learning and keep up with them on social media!
Website: https://www.lexialearning.com/
Instagram: https://www.instagram.com/lexialearning/
Twitter: https://twitter.com/lexialearning
YouTube: https://www.youtube.com/user/LexiaLearning
Facebook: https://www.facebook.com/lexialearning