June 1, 2022
Member Spotlight: Always Dream
Share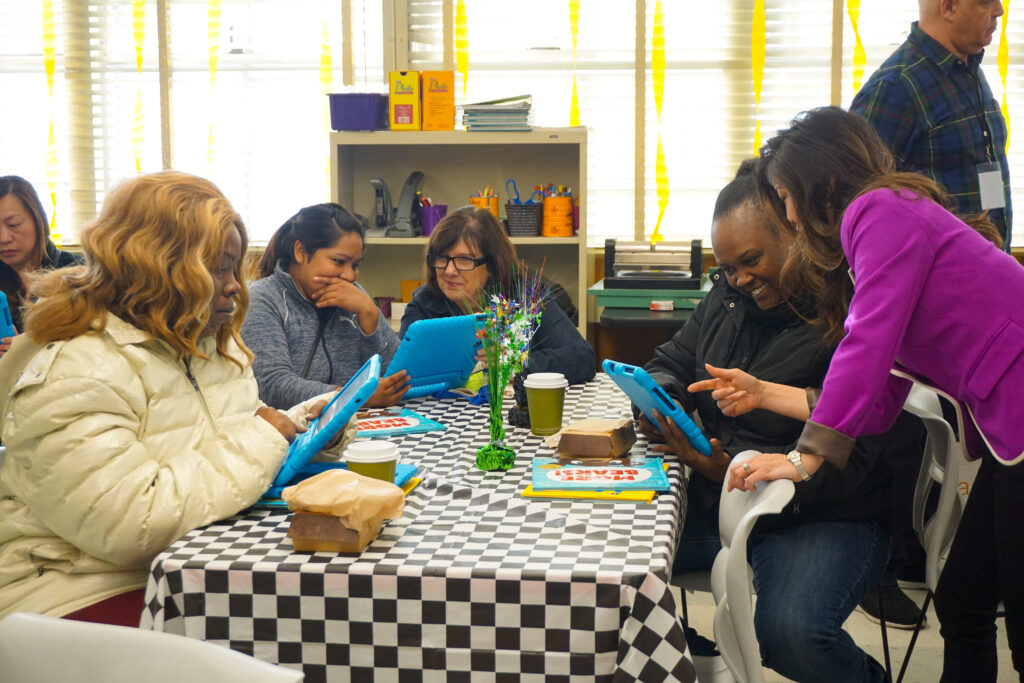 Written by OLC Staff
June 1, 2022
The Oakland Literacy Coalition is thrilled to welcome Always Dream to our member network! Founded in 1996 by Olympic Gold Medalist and New York Times Bestselling Author, Kristi Yamaguchi, Always Dream envisions communities where the digital divide and opportunity gap no longer exist. The mission of Always Dream is to ensure children from low-income families have access to high-quality books in the home environment and extensive family engagement support. "When kids build a love of reading, they move from 'learning to read' to 'reading to learn.' This milestone is undeniably transformative, opening doors to new possibilities and dreams," says Kristi. Want to learn more about the incredible work Always Dream is doing to support the reading journeys of kids and youth? Check out our conversation with Executive Director, Aarika Riddle!
Oakland Literacy Coalition (OLC): How does your organization support literacy in Oakland?
Always Dream: ​​We run our Always Reading Program at International Community School and Allendale Elementary School. Our program works with the kindergarten students and their families at these schools. Next school year, we will also begin working with transitional kindergarten students at Allendale. 
OLC: What sets you apart from other organizations in your community? Or from other organizations with similar missions?
Always Dream: The goal of Always Dream's core program, Always Reading, is to encourage and support families in creating consistent reading routines at home. We work with transitional kindergarten students, kindergarten students, and their families. While we partner with schools to serve the youngest students on their campuses, our work is focused on the home environment. 
Our Always Reading program is built on three main pillars: 1) 21st Century Technology: All students receive a digital tablet and a data connection (if they don't have internet at home); 2) High Quality Books: Students are given access to a robust digital children's library and hard copy books that are gifted to them throughout the school year; and 3) Family Engagement Strategies: We take all of this access and pair it with the support of a dedicated Book Coach who supports the students' family members with education, accountability, and help with any challenges they run into. 
OLC: What's on the horizon? What community programming or events are coming up that your organization is most excited about and why?
Always Dream: We are about to launch a 5-year strategic plan focused on the expansion of our program. We work with schools around the Bay Area but would love to grow our presence in Oakland schools. The launch into the TK space is really exciting because it will allow us to reach families earlier and provide two years of support for families to read together with their young children at home. 
OLC: Is there anything that you wish more people knew about your organization or the issues you are trying to solve?
We love books in all shapes and sizes. The beauty of digital books is that children have access to thousands of them, all at the touch of their fingertips. We know that choice is so important for building that love of reading – which is why it's extra exciting when a student finds a topic or character that they enjoy and makes them want to read even more. We also know that not every family has the physical space to store a large number of physical books or may not have a consistent location where they reside. With the tablet, data connection, and digital library, families can take a library of books with them so that storytime can happen anywhere. 
OLC: What are you most looking forward to as a member of the Oakland Literacy Coalition?
Always Dream: We are most looking forward to learning more about the OLC community of members and the great programming or services they provide. We are always looking for ways to partner with other organizations to better serve our students and their families. We're also excited to learn about best practices from others to explore ways to improve our own program and approach. 
OLC: Could you share an anecdote/experience about working with a student or teacher that really stood out for you?
Always Dream: We had an Oakland student whose reading activity on the tablet was fairly low at the beginning of the program. When our Book Coach connected with his parents, we learned that they were having a hard time time finding books that kept his interest. We showed them how to use their digital library to search by topic and provided examples of questions to ask him. It turns out, he was really interested in space! Suddenly, we saw his reading activity skyrocket with books all about space, stars, and planets. Now he has dreams of becoming an astronaut – which his family credits to easy access to a wide range of books through our Always Reading program.
OLC: The literacy crisis is real and impacts us all at the local, state and national level. With that said, what does Literacy & Justice for All mean to you?
Always Dream: Literacy & Justice for All means that every family and child has the access to resources and support to build strong literacy skills, thus putting them on a trajectory to realize success in their education and in life.
Be sure to keep up with Always Dream and follow them on social media to learn more about their work!
Website: https://alwaysdream.org/
Facebook: https://www.facebook.com/AlwaysDreamFoundation/
Instagram: https://www.instagram.com/alwaysdream/
Twitter: https://twitter.com/alwaysdream96