November 6, 2023
Unveiling Our Latest Impact Report: See How OLC Is Strengthening Literacy Programs in Oakland
Share
We're excited to share the Oakland Literacy Coalition Impact Report for 2022-2023.
This year has been significant for the Oakland Literacy Coalition. In our commitment to fostering a community where every child has the opportunity to thrive through literacy, we expanded our learning programs and designed new tools to support the field and ecosystem. We've seen change at a community level, with Oakland rising up as an example of embracing change to strengthen student learning and success.
As you delve into this report, you will see highlights from our work and impact over the past year—equipping the community with information, resources, and opportunities to be champions for literacy, igniting a joy of reading, fostering productive collaboration, and deepening learning opportunities to build the capacity of our field to drive outcomes.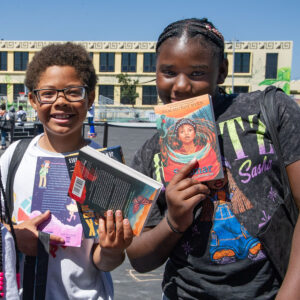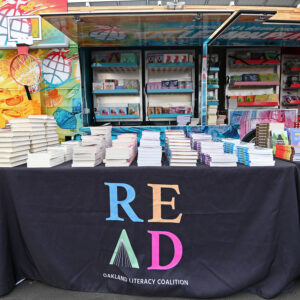 Here are some of the highlights we covered in this year's report:
Fully incorporated the School Library Partnerships program (formerly Friends of the Oakland Public School Libraries) into the OLC, bringing greater community visibility and support to OUSD school libraries.

Established Oakland as a hub for literacy leadership by expanding the reach of our Literacy and Justice for All Symposium and bringing educators, leaders, and stakeholders from across the country to learn and connect here in Oakland.

Launched the Oakland Reads website as a tool for families and community partners to access actionable information about the skills young children need to learn to become strong readers and how to get support for a child who may be struggling.

Contributed to national conversations about literacy and highlighted how Oakland is serving as a model with the adoption of structured literacy instruction and high-dosage tutoring.

Hosted our first Open House as a way to gather education stakeholders from across the city, highlight recent progress, showcase the work of our member organizations, and hear from Sondra Aguilera, OUSD Chief Academic Officer, about how Oakland is leading for literacy and how the tools and resources created by the OLC have supported the district's efforts.

Released our new Strategic Plan, a roadmap for our work over the next three years.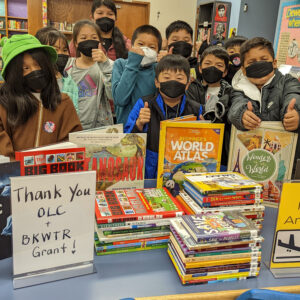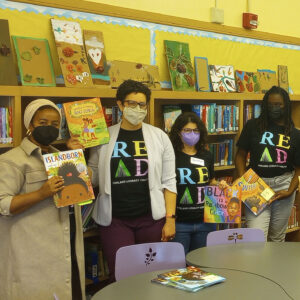 This report is not just a reflection of our past year but a testament to the enduring dedication of our supporters and partners. It's a call to action, an invitation to join us in our mission, and an opportunity to witness the positive change we can create together. We invite you to explore this report, be inspired by the stories within, and consider how you can join us in making a lasting difference in the lives of Oakland's children.