March 16, 2023
Member Spotlight: FluentSeeds
Share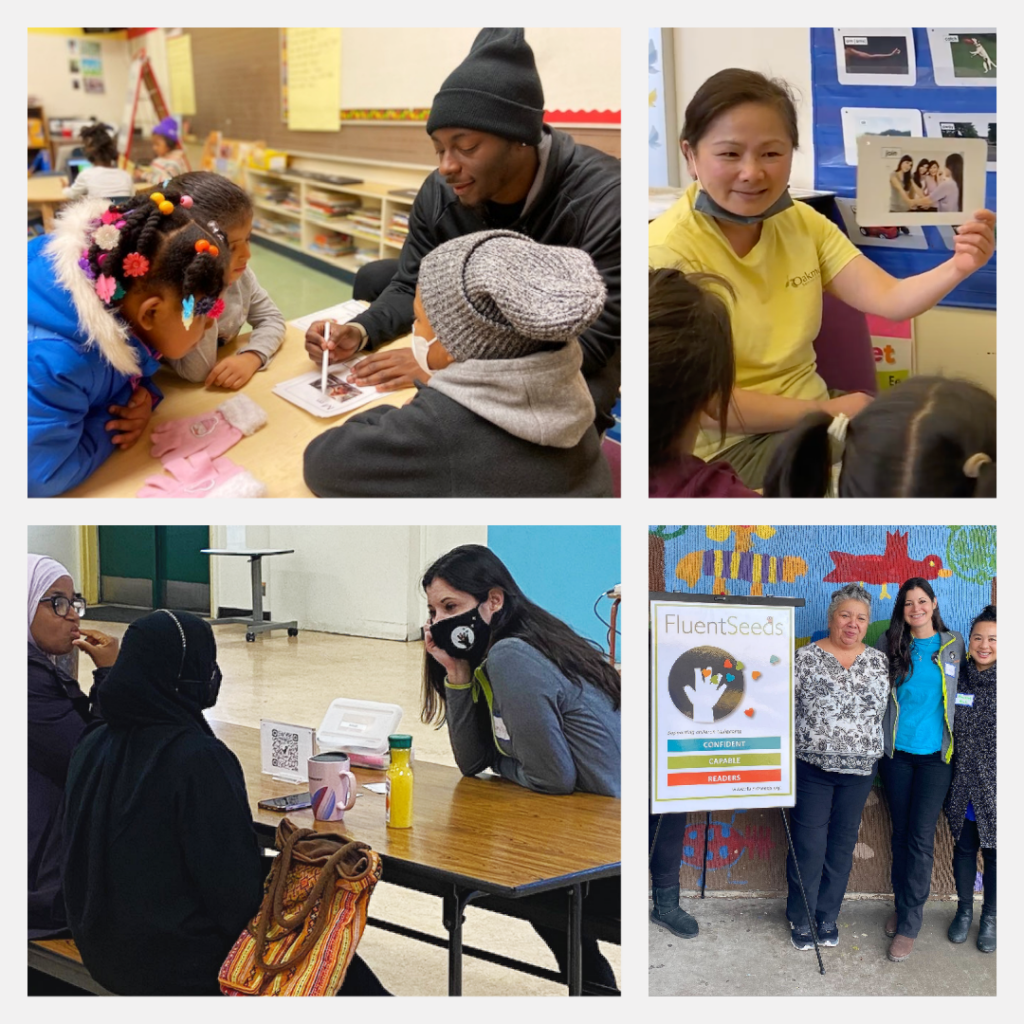 Introducing Fluent Seeds
The Oakland Literacy Coalition is excited to highlight FluentSeeds as one of the members of our network! FluentSeeds is a non-profit formed to promote kindergarten readiness through ©SEEDS of Learning, a set of relationship-based early literacy and language frameworks based on the latest science of reading. Through a randomized control trial (RCT) study, SEEDS is conclusively proven to increase early learning literacy skills for children by engaging adults in relationship-based interactions and evidence-based strategies. Grounded in early childhood development practices and tools, ©SEEDS of Learning programs are currently operating in 12 states. We had the chance to talk to Program Director Emily Grunt about the organization's mission, values, and plans to continue their amazing work!  
Oakland Literacy Coalition (OLC): How does FluentSeeds support literacy in Oakland?
FluentSeeds: FluentSeeds supports Oakland with ©SEEDS of Learning training and coaching for educators and other adults, with strategies to build social-emotional, language, and literacy skills in young children. We're grateful to count Aspire Oakland and Education for Change among our partners, and honored to support OUSD for over 9 years. We began our partnership with the wonderful REACH folks in 2021, providing coaching and training for their Literacy Liberator Tutors and Parenting Fellowships.
OLC: What sets FluentSeeds apart from other organizations with similar missions?
FluentSeeds: FluentSeeds is one of the very few early literacy frameworks proven to have significant growth on children's early literacy predictive skills through a Randomized Control Trial. Our focus on relationship-building provides partners with more than pedagogy, by embedding the art and science of sensitive and responsive relationships into every interaction. We support every learner – adults and children – in feeling respected, capable, and confident.
OLC: What's on the horizon? What community programming or events are coming up that your organization is most excited about and why?
FluentSeeds: In 2022, FluentSeeds coached and trained 33 tutors at all of the Springboard summer learning sites for OUSD. This was the first time summer tutors have been hired to support summer learning and we're proud of this partnership and program that adequately compensates tutors for their important work. We will continue to provide weekly SEEDS of Learning Communities and weekly coaching for the Literacy Liberator core and hope to grow with more organizations in those types of spaces. We'll continue our training in early literacy foundations, using ©Seeds of Learning and SIPPS for small group instruction K-2, and continue to expand throughout the Bay Area.
OLC: What is FluentSeeds' plan for the future?
FluentSeeds: FluentSeeds is about to launch a 5-year strategic plan focused on the expansion of its program, working with schools around the Bay Area and growing our presence in Oakland schools. The launch into the TK space is really exciting because it will allow FluentSeeds to reach families earlier and provide two years of support for families to read together with their young children at home.
OLC: What does Fluent Seeds wish more people knew about their organization?
FluentSeeds: The foundation of FluentSeeds is relationships. This small but mighty organization walks into school sites with this principle. We navigate with our hearts and know this will guide us to openness and trust. Each visit, each call, and every observation has the students, teachers, and families at its core. We know our frameworks are effective for teaching students early literacy. Our goal is to ensure this program is being used by literacy instructors as designed and reaches as many children as possible.
Learn more about FluentSeeds and keep up with them on social media!
Website: https://www.fluentseeds.org
Instagram: https://www.instagram.com/fluentseeds_cares
Twitter: https://twitter.com/FluentSeeds
Youtube: https://www.youtube.com/@fluentseeds
Facebook: https://www.facebook.com/FluentSeeds