July 26, 2023
Books for Disability Pride Month and Beyond
Share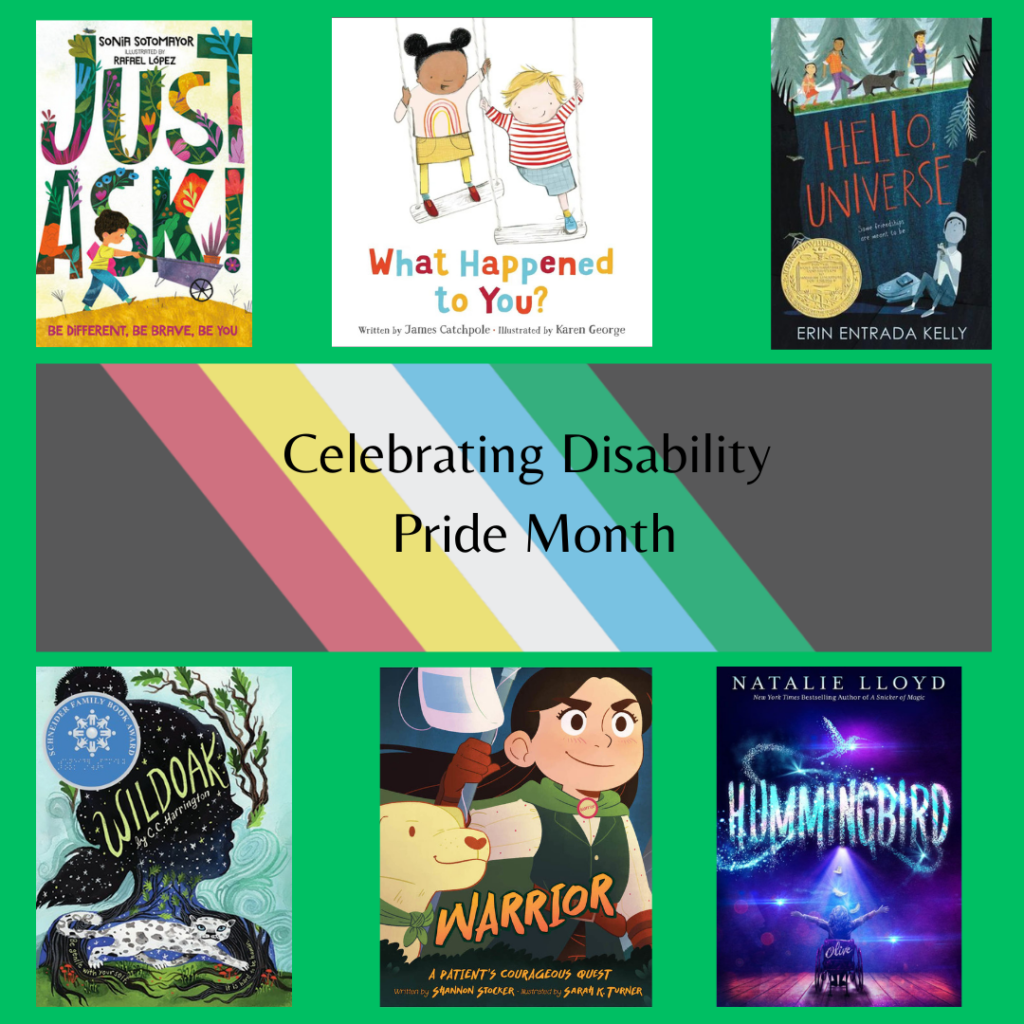 Did you know that July is Disability Pride Month? We've put together a list of disability children's books. We know there is a big lack of representation of folks with disabilities in children's books, and hope that these book recommendations help you find some great titles to share with students and families. We think a great picture book to start with is Just Ask! Be Different, Be Brave, Be You by Supreme Court Justice Sonia Sotomayor. It introduces many children with different types of disabilities, but shows them playing and as part of a community. It's available in English and Spanish, and can be read with young children up to upper elementary aged children. 
In her 2021 Essay in Book Riot, Margaret Kingsbury notes that "According to the Cooperative Children's Book Center's 2019 study, only 3.4% of children's books have disabled main characters. Compare this statistic with the CDC's finding that 26% of Americans have disabilities, and it's easy to see there's a problem. The children's book industry is failing to portray the many myriads of ways bodies and people exist and interact with the world. These are ways that many children experience themselves or will experience in the future."
A few notes: 
 As always, we've tried to include a majority of Own Voices books – those written by a person with the disability depicted in the book, like

A Day With No Words

, by Tiffany Hammond, who is an African American woman with autism. If we know that the author self-identifies as having a disability, we've included it in the "Author's Identity" field in the list. 

However, we've also included some books where a character has a disability that's not the central part of the book. It's so important to normalize representation of folks with disabilities, and we love seeing more books where a character has a parent in a wheelchair, like

The Good Hair Day

, by Christian Trimmer,  or a sibling with depression, as a normal part of life. 

We've also included books about a wide variety of disabilities – some visible, like

Tenacious: Fifteen Adventures Alongside Disabled Athletes

,  some invisible, like

Thank You, Mr Falker

, about the author's struggle with dyslexia and the teacher who helped her. 
Looking for more recommendations? We liked this list of Middle Grade Books Roundup (Invisible/Visible Disabilities) by The NextGen Librarian, Amanda Hunt, and this list of Six Manga About People With Disabilities from School Library Journal.  
Wondering about the Disability Pride Flag? Read here.