January 27, 2022
Black Minds and the History of Education with Tyson Amir
Share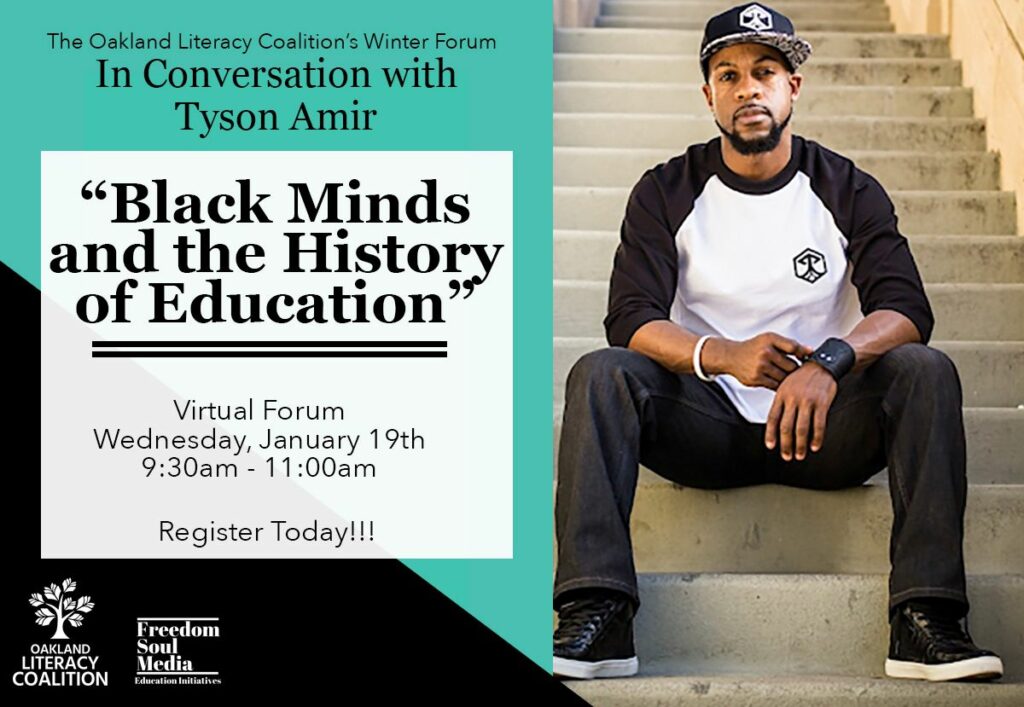 Updated by OLC Staff
January 27, 2022
Earlier this month and January 19th, the Oakland Literacy Coalition was honored to have Tyson Amir lead a powerful presentation for our Winter Forum and our first In Conversation Series for 2022. In the seminar presentation, titled "Black Minds and the History of Education,"Tyson Amir explored the history of U.S education and its impact on Black and Indigenous folks in the Bay Area and across the country.
Watch the full presentation here!
What are the stereotypes about Black students and Black youth? Where did they come from??? And what purpose do they serve??? These are the questions Tyson led with as he began the unveiling of the origins of U.S Education. 
When having conversations about the inequities and injustices that many Black, Brown and Indigenous students face within the education system, we have to have a clear understanding on where it all originated from. When it comes to the beginnings of what we know to be the education and schooling system here in the U.S, the intention was, politically, socially, economically, legislatively, and culturally focused on barring Black folks from access to education. This is evident in the slew of anti-literacy laws passed between 1740 – 1865 and further confirmed by anti-Black and discriminatory beliefs held by many of the this country's founding leaders. 
Taking us on a journey from the early 1600s to the present, Tyson gives a thorough mapping of the history of U.S education, connects the Black experience with Indigenous struggles, and urges us to reflect on our own perceptions and beliefs and how that shapes the youth who we are in community with.
For a quick content preview, take a look at some of the slides shared during the presentation here!
And if you haven't already, you will definitely want to head over to our YouTube Channel and watch the full presentation there.
About Tyson
Born and bred in the Bay Area is the creative, Tyson Amir. He is a rapper blessed with a poignant message, electrifying cadence, enlightening lyrics and it all combines to form a music with enough heart and soul to move a generation. Tyson is also a poet, emcee, educator, author, activist but if you ask him he'll say he's "a freedom fighter". His fight is born out of love for humanity, justice and peace for all. Each one of these layers are intricately woven into his praxis and practice. He is the author of "Black Boy Poems" and creator of the Black Boy Poems curriculum. He is also the founder of Freedom Soul Media Education Initiatives. 
Keep up with Tyson
IG: @tyamir
FB:@tysonamir
Twitter: @tysonamir