May 31, 2017
Stories for All: OLC at the Bay Area Book Festival
Share
Stories

for All:  Authors and Educators in Conversation About Diversity, Representation, and Storytelling for All Children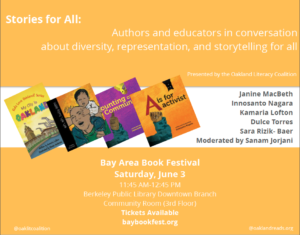 BABF Flyer
We are thrilled to present "Stories for All" featuring an incredibly talented group of authors and community educators for Bay Area Book Festival on June 3rd.
Storytelling, perhaps today more than ever, is a tool for transformation. While the movement for diverse books grows, characters of color remain largely absent from the catalog of children's publishing that tell tales from the common and everyday, to the quirky and extraordinary. Local makers of #ownvoices literature and local educators will explore the impact of diverse literature in affirming a child's whole self. Join us for a dynamic and timely conversation about how these authors have created stories that reflect the diversity of the childhood experience; and how educators draw on stories to make meaning in the classroom and beyond.
We'll be sharing the stage with authors Innosanto Nagara, Janine Macbeth, and Kamaria Lofton, in conversation with two talented community educators, Dulce María Torres, and Sara Rizik-Baer. The panel will be moderated by Sanam Jorjani.
Event Details:
Saturday, June 3rd
11:45-12:45 AM
Berkeley Public Library, Community Room (3rd Floor)
About the Panelists:
Janine Macbeth is Author of Oh Oh Baby Boy and Founder of Blood Orange Press.
Innosanto Nagara is author and illustrator of A is for Activist, Counting on Community, and My Night in the Planetarium.
Kamaria Lofton is author of My City is Oakland and Founder of Like the Moon Press.
Dulce Maria Torres-Petty is a Program Supervisor for Tandem, Partners in Early Learning, delivering early literacy and family engagement programming to Bay Area families
Sara Rizik-Baer is an Oakland based literacy specialist and coach, and a former elementary bilingual teacher.
Sanam Jorjani is the Co-Director of the Oakland Literacy Coalition
About the Bay Area Book Festival:
Over the weekend of June 3rd and 4th, 2017, the third annual Bay Area Book Festival will fill downtown Berkeley with a literary extravaganza that offers pleasure to anyone who has ever loved a book.  Whether you're a fan of science fiction or history, of fiction or memoir, of poetry or food writing, of children's literature or science, come experience one of the best book festivals on the planet!
Tickets available at https://www.baybookfest.org/.  Fifteen dollar tickets allow entry to all indoor events.