July 29, 2020
The OLC distributes over 9,500 books to Keep Kids Learning during COVID
Share
In response to COVID-19 and the inequitable access to distance learning that followed school closures, the OLC launched the Keep Kids Learning project to ensure that all children in our community, regardless of family income or resources, have great books at home.
Since mid-March, the OLC has given away more than 9,500 new books along with bilingual reading guides that we developed to support rich and engaging learning experiences. In addition to selecting developmentally-appropriate books for infants through middle schoolers, the OLC focused on curating culturally affirming books that reflect the diverse identities of Oakland students and are written and illustrated by people of color.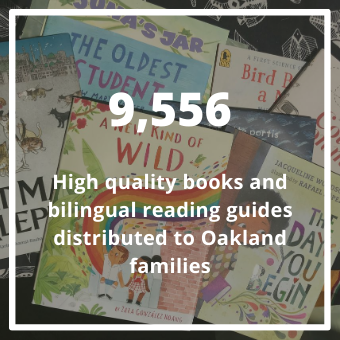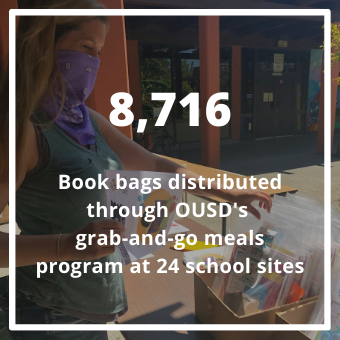 Take-home book bags were distributed through the Oakland Unified School District's (OUSD) grab-and-go meals program, charter schools, and community-based organizations that provided COVID relief services through their existing touchpoints with families.
"Many of our students do not have access to high-quality books at home that they are interested in reading.  Students need the comfort of a routine that involves a variety of activities at home, including reading. Reading not only reinforces academic skills for all students and language acquisition for our English Language Learners, but it also provides emotional support through the experience of escaping into a novel, imparting a much-needed break from the everyday stressors created by the pandemic."

Tierre Mesa
Principal, Urban Promise Academy
In collaboration with community partners, the Keep Kids Learning project expanded to include a robust set of literacy resources and activities beyond books. With support from the Rogers Family Foundation's COVID Relief Fund, the OLC partnered with Agency by Design Oakland to create 1,000 literacy "maker kits" with custom-made reading guides and materials for activities to accompany each elementary grade-appropriate text.
With support from the Surge Institute's COVID Relief Fund, the OLC teamed up with Tandem, Partners in Early Learning to distribute 635 take-home book bags, with carefully selected multilingual books and activity guides for Oakland families with young children ages 0-5. Each bag included a video link to a read-aloud of the book recorded by Tandem staff. 
"Our families were thrilled to receive books and bilingual reading guides. Many of them were having a hard time finding ways to keep their kids engaged, so the books were timely and appreciated."
Maria Hassel
Director of Community Services, BANANAS Inc.
The OLC extends its sincere appreciation to all of the hardworking volunteers and frontline service individuals who assisted us in making this happen. We are grateful to Chapter 510 & the Department of Make Believe for the use of your sanctuary as a project command center. We would also like to thank members of the OUSD staff who assisted us on a weekly basis to ensure books and materials were available during the grab & go meal distributions; Cassaundra Reed & Irene Reynolds at the main office, and Oliver & Guillermo in shipping/receiving.
How You Can Get Involved
The OLC is raising funds to continue book distributions as we start a new school year with distance learning. We invite you to make a donation to our Keep Kids Learning project to help make this possible.
Via our newsletter, we will also be sharing (outdoor, COVID-safe) volunteer opportunities to help our team put together book bags for distribution.
We also invite you to reach out to us at team@oaklandliteracycoalition.org to find out about getting books for families at your school or community.