June 23, 2022
2021-22 OUSD Reading Progress & Tools for Strengthening our Collective Literacy Efforts
Share
OUSD recently released its end-of-year iReady data reports on elementary student reading outcomes. iReady is a district-wide assessment that measures whether individual students are on grade level in math and literacy based on state and national standards. You can find information on the iReady assessment and how it is used in OUSD here. 
Here is what we learned as we explored the new iReady data for the 16,333 students who took the spring 2022 reading assessment:
How many students were on grade level? 
Around one-quarter (25%) of students were on or above grade level at the start of the year. Roughly half (45%) of all students who took the assessment were on or above grade level in the spring. Although the number of students two or more grade levels behind shrunk considerably, the number of students who were one grade level behind hovered around one third from the start to end of the year. 
How many students met their growth targets? 
Approximately, 6-in-10 students (59%) across the district met their stretch growth targets for the year. Stretch growth targets indicate the amount of growth that a student should target in a year to put them on a path to attaining grade-level proficiency.
How did outcomes differ across student groups? Were outcomes equitable? 
Income and language proficiency played a role in outcomes. Students from low-income families were 10 percentage points below their non-low income peers on meeting stretch growth targets. On average, English learners were around 7 percentage points behind students who were not classified as English learners on meeting stretch growth targets. 
While we applaud the progress over the year, we know there is much more work to be done.
Research shows us that students—especially students from low-income families and English Learners learners—need sustained, rigorous, culturally relevant literacy support to stay on track and meet their grade level literacy standards. 
As a coalition, the OLC works to increase visibility of the various efforts and resources working to support Oakland students' literacy development, strengthen partnerships across the field, and elevate what's working and where gaps remain. One way we do this is through our LitMap. 
What is the LitMap?
Each year, the OLC updates the LitMap dashboard to show the distribution of early literacy programs at publicly funded preschools and public elementary schools across the city. In the current iteration, the LitMap includes programs run by OLC member organizations, along with iReady reading proficiency and growth data, and school enrollment and demographic data.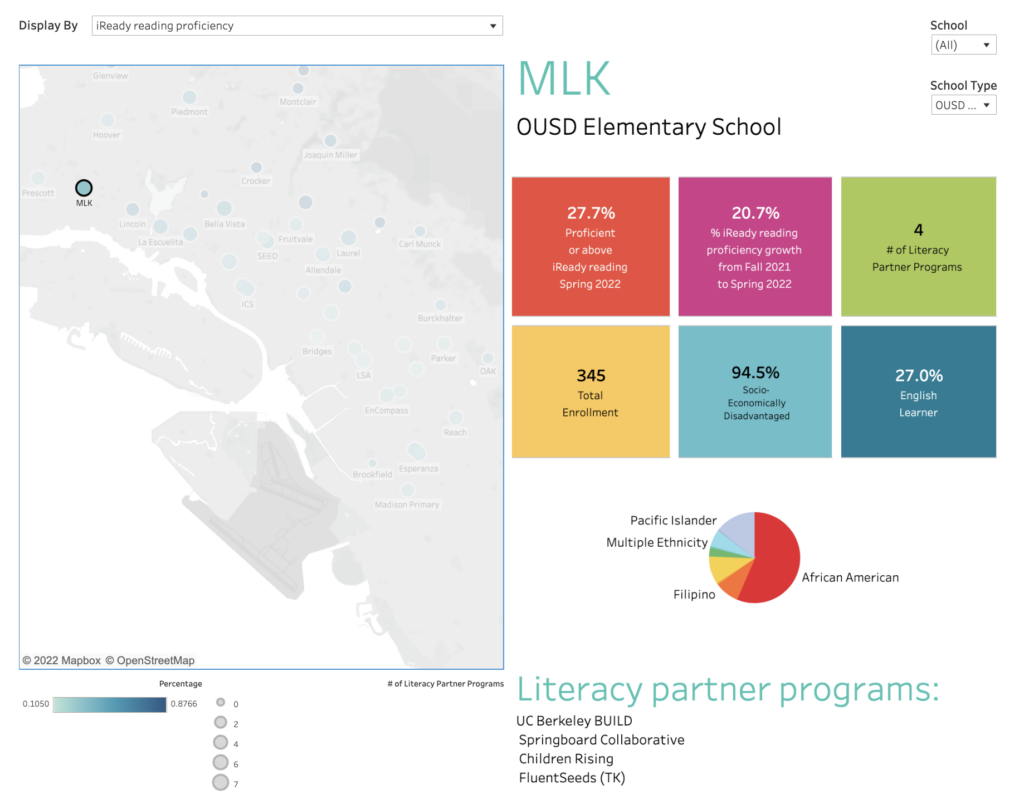 Going forward, in collaboration with OUSD strategic planning working groups, the OLC will be expanding the LitMap to paint a more comprehensive picture of literacy resources and assets serving our youngest learners and illuminate where progress is accelerating and stalling. This tool will help inform our collective efforts as a city as we learn and work together to replicate promising practices, identify barriers in our ever-evolving landscape, and push to strengthen outcomes and equity for all Oakland students. 
We invite you to explore our updated LitMap and get in touch with us by emailing cassie@oaklandliteracycoalition.org if you have questions, suggestions, or feedback.