April 18, 2022
Words in the Wild: Using Nature to Engage Curious Minds
Share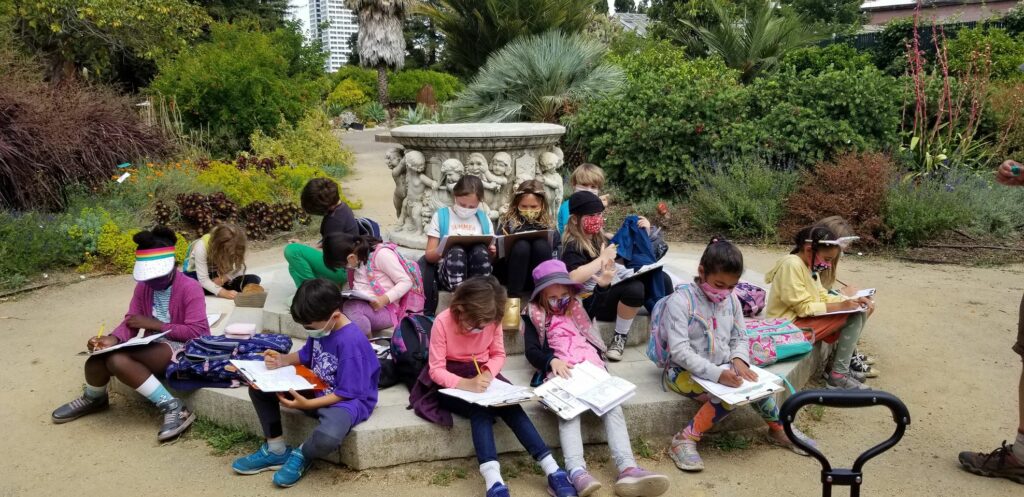 Interview with Founder & Executive Director Alexis Filippini and Program Manager Lindi Shepard
Written by OLC Staff
April 18, 2022
We are incredibly excited for Words in the Wild to join us as a member of the Oakland Literacy Coalition! Words in the Wild is an Oakland Based non profit that offers strengths-based literacy programs to children and the adults who teach and love them. We had the chance to talk with Founder & Executive Director Alexis Filippini and Program Manager Lindi Shepard about the powerful and deep ways that learning happens by applying literacy skills to meaningful experiences, like exploring and documenting nature. Learn more about their work and check out the conversation below!
The Oakland Literacy Coalition (OLC): What do you think makes Words in the Wild stand out in the Oakland literacy landscape?  
Lindi:  I think grounding it in nature makes us really different and gives an access point to literally everyone. It hits on the Universal Design for Learning, but it also brings in this point of inquiry, this interest, this excitement that I think can be lacking from a lot of literacy programs. 
The way that we bring scientific inquiry into the process promotes a totally different way of approaching words and word learning, orthography and phonology. For a teacher like myself with a lot of experience in the classroom, it opened up a new way of looking at words not just when I'm with a student, but just in my own life when I'm reading. 
My brain is doing an entirely different process now when looking at words and it is so exciting.
It totally reinvigorated the way that I approached language. That excitement around words and word learning and bringing it to students infuses it with a different kind of energy. 
Alexis: At the heart of it, why we use nature is because kids are naturally curious. They have these little scientific minds where they're observing, processing, and analyzing data and the world around them all the time. We're just trying to leverage what they're naturally doing and applying that to reading.
What's a highlight from a family, student or perhaps a teacher that really stood out and affected you?
Lindi: I've been working with a student for a little over a year now. We're working on a flow chart right now to figure out when to add 'es', or when to add the 's' suffix to a word, an activity that is similar to one we did in our small group program, Wordlab. The kids were so excited about it!
One created a hypothesis (about that word category) that I had never thought about before in all of my years of teaching, but he was right. The fact that he could create a hypothesis, demonstrating a complex orthographic concept, really demonstrated how deep his understanding is of the processes that we're talking about. It just blew my mind. I was so proud. 
We're looking at etymological histories. We're looking at morphology. And for many teachers that's not something that they are super familiar or comfortable with. I found that moment to be reflective of the idea of working through structured word inquiry.
It takes the role of a teacher into a different space where I am not necessarily leading instruction as the 'expert' and instead I'm on the same playing field with my students, co-constructing this knowledge together. The teacher is at the same level and that's where magic happens- where we can all look at each other and say- wow did we just create this?
Alexis: There's the Wonder tree, where we made all these leaves and anytime they had a question or a wonder, they would write it down and stick it on the tree, not always something that we explored deeply in the moment, maybe they have a question while we're in the middle of reading, and they stick it on the tree. Maybe, we'd revisit it later. Maybe we don't and that's okay. We're just honoring their process of inquiry.
What do you think are going to be the most impactful lessons from virtual learning, and particularly, in regards to learning loss and "accelerated learning"  
Alexis: We already knew, but we really saw the inequity in education.
We could see it in the kids who are getting labeled and getting placed into special education, and who aren't getting access to the same resources and the same level of teachers with the same level of education or experience. We should all really be talking about it now. There was already a lot of learning that wasn't happening on an equal playing field, and the gap is ever more obvious. A lot of kids didn't have internet access at their homes or a computer before the pandemic. We need to understand that as a part of an equity issue. Looking at how we are distributing services and where resources are going, and how can we best target the kids that really are most in need.
The second takeaway is that I can teach kids online!
I was not a fan of tech but if I can teach an outdoor ed program on a computer, I feel so empowered. I was teaching and engaging four year olds, even two year olds! We actually formed a meaningful teacher/student connection on a screen. We still have kids that we're seeing virtually and tutoring clients that I've never met in person. I have a great relationship with them and we do great work. Virtual learning is another avenue for parents who are really busy and overburdened. They can have their kid hop online and get these services. It provides another way that we can offer services through. I love that.
A third takeaway was seeing families absolute resiliency and the amazing work that they did to support their kids through the year. There was a lot of peering into people's homes in a way through the screen and just seeing how much is going on, and really connecting with them. We're all dealing with the pandemic stress together. This little window into the humaneness on every side and every angle was a huge takeaway for me too.
Lindi: I think about how we had kids with access to a device, and could tolerate being online. But what about the others?  We tried to overcome the barriers we could. We offered a sliding scale to anybody who wanted it for word lab during the pandemic. Even if that was a barrier, we would take care of it. We were able to reach some families who might not have been able to get services.
How do we leverage this experience of success? Similarly, I was thinking about family engagement and especially for families of kids with disabilities for whom coming to class workshops is a barrier. We can use Zoom to reach them. Although internet connectivity is an issue, it increases accessibility for many families to participate in school activities and family engagement. I imagine parent teacher conferences will forever stay online as an option.
Why did you decide to join the membership of OLC?
Alexis: I had been following the OLC for quite some time and wanted to get involved. 
We appreciate the collegiality and sense that we don't operate in a vacuum. We want to learn from and grow with our other colleagues in the community. I worked in a still small but bigger nonprofit in San Francisco, and I just saw the literacy community was so disconnected. 
When we did come together, it was often at an awkward funder event where we were kind of scrapping for resources. You want to build collegiality but then you're also trying to pitch your organization to this finite pool of funders. The way that the OLC is approaching it is like building a quilt, with all the different entities. It's very appealing to me.
From a managerial perspective, there's just a huge range of student needs, whether it's different ages of kids different geographies, different family backgrounds, different reading skills. Being able to refer a family to other organizations and finding ways to build partnerships is important to a small non-profit that isn't looking to serve thousands of kids.  We want to work with other programs and partner and help make them stronger, to learn from them to make our program stronger. That's our vision in this community.
Lindi: We used information about the new OUSD ELA strategy to inform our direction with certain services that we are already providing to fit into what OUSD needs. That language has already been helpful. Also, in one meeting alone, people were forging so many connections with one another and exchanging information in a four person breakout room.
That's really special, and I'm hoping we can keep that going because I think sometimes we need to share information. That's a valuable part of promoting effective practice, stepping back and giving time for folks to give information to each other. We'll all come out stronger for it, and ultimately it's for them- the kids!
Keep up with Words in the Wild!
Facebook: https://www.facebook.com/WordsintheWild/ 
Instagram: https://www.instagram.com/wordsinthewildlab/