May 14, 2018
Tandem, Partners in Early Learning
Share
Member Spotlight: Giving the Tools for Empowerment
Tandem, Partners in Early Learning has been offering early literacy and family engagement programming in the Bay Area for over 13 years. The have various programs including Story Cycles that provides multi-lingual, multi-cultural high quality bags of books for kids to take home. Their other programming includes various workshops and literacy events for families, educators, and service providers to empower them with resources and training. Through working with a diverse mix of service providers and preschools, Tandem works to cover Oakland's need for early learning skills.
In this latest member spotlight we had the opportunity to sit down with the collaborative and highly creative team at the Alameda office of Tandem, Partners in Early Learning. We talked with Alameda County Program Supervisor, Crystal Sand, and Community Literacy Specialists, Des Michel and Tania Camacho-Pineda, about their approach to early learning skills, their role in the community, and of course about children's books! 
We asked Crystal, Tania, and Des to share their perspectives on the impact of their work.
Tania- I feel that what makes us different is that we are actually coming to the people, in the communities, in the spaces where people feel most comfortable and safe.
Crystal- I agree and I think that one thing that makes us stand out is we have curated an extensive library of high-quality books that are age appropriate and in a variety of languages. So that parents can take home books to share with their kids in their home language but also to be exposed to other languages. So that kids can see and learn about other cultures but also see themselves reflected in the books that we provide.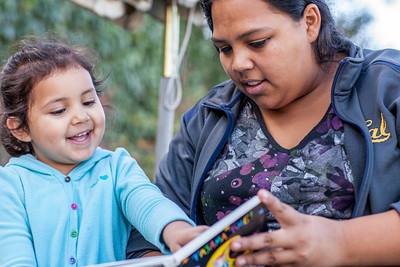 Does Tandem have a hidden talent you can share with us?
Des- I would say that a hidden talent of Tandem is really the families and community that we serve. One thing that makes me really love working at Tandem is that we have a strengths- based approach when we are speaking with family members. When I am facilitating workshops I am always impressed with the information that parents share that they are already doing with their children. I'm very impressed with how the books from Story Cycles are being used and utilized. I feel like we are giving the tools for people to use.
Can you share an example of when you've seen your impact in action?
Des- One thing that really struck me was meeting with a teacher through Refugee Transitions. She had said that before Tandem had started providing books to this population she asked the parents how many of them had access to books at home and 70% said that they didn't have a single book. That reinforced for me that providing the books there is important. Even today I finished a read-aloud and this kid came up to me and goes "high-five then hug!" It was the most adorable thing. That's why I do it, for the hugs, and the high-fives, the smiles on the kids faces, and the questions they have early in the morning
Tania- I was doing a read-aloud with a group of kids with the book Chameleon and it shows a chameleon changing colors as it appears in front of different objects. When I told them what a chameleon was they were so impressed and when I told them that they actually change colors they thought it was magic and out of this world. That definitely got their engagement early on. It's great how you can see their "Aha" moments and I do read-alouds a lot so it happens often.
"That's why I do it, for the hugs, and the high-fives, the smiles on the kids faces, and the questions they have early in the morning."
Have you had any"Aha" moments of your own?
Crystal- For me it was realizing that in the workshops that we do with the parents and hearing from them and from their experiences. Just realizing the extent of the knowledge that they already hold and the practices that they are already doing with their children. That helped me to realize that our job is really to provide them with the tools and the resources and to give them the confidence and empowerment to support early learning development in their children. We are not teaching them how to be parents, we are only facilitating and helping them through providing the tools to help them to be successful.
Des- I think my "Aha" moment was realizing what amazing children books are being produced right now in terms of representation, diversity, and not perpetuating negative stereotypes. That is something that I think is important and something that Tandem prioritizes. Before I started working here I was concerned about reading books to children that would maybe have bad gender roles or stereotypes. It's so refreshing working here and seeing the books that are coming out now.
Why did you join the OLC Member Network?
Crystal- There are a ton of really wonderful organizations in Oakland that are doing great work to help improve literacy rates in the city and to set kids up for success. It is a great opportunity to network with those other organizations, collaborate with them, find partnership opportunities, and learn from them. The OLC as an organization provides a lot of really helpful resources for us to do our work.
If you were to describe Tandem in three words what would they be?
Tania- Passionate, each individual and as whole.
Crystal- Empowerment, Joy and Opportunity
Des- Joy, books, and kids, because that's what it is for me.
This blog is a feature highlighting our OLC Member Network in action. We know that building a future where every Oakland child learns and loves to read will take all of us. That's why we've built a thriving network of organizations to learn, collaborate, and champion literacy.  Learn More about our Member Network by visiting our website.  For questions about the Member Network, contact Sanam Jorjani at Sanam@Oaklandliteracycoalition.org.