July 28, 2016
Reflections on Solidarity and Compassion
Share
by Jessica Scadron, MDC Network
As the sun was setting on Oakland, the fourth Annual Oakland Literacy Coalition Network Convening and Launch Party was just getting started.
Although this year's event was different, the faces in the room were warmly familiar. Despite the many changes in our organizations and Oakland's landscape, our community returns year after year, joining together in solidarity to enable every child in Oakland to read and thrive.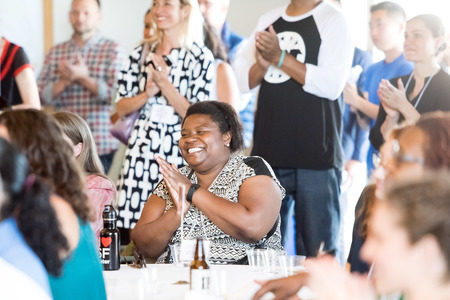 We were honored to host over 130 literacy champions, from educators to city council members, such as Dan Kalb and Vice-Mayor Anne Campbell Washington; educators; literacy providers; volunteers; funders; non-profit leaders and many others dedicating their lives to equipping Oakland's kids with the tools they need to succeed in school and in life.  Because, as Cassie Perham of the Coalition said, "Reading is a right that should be afforded to every child."
A major theme emerged from this year's event: connection. Throughout the event, people talked of how critical it is for adults to support each other – parents, volunteers, educators and others – who are responsible for ensuring each child's reading success. Adults need to share best practices, provide support and build trust among themselves to weather the challenges of children's life experiences. This unity is essential in order to be good mentors and teachers for kids, and ensure their well-being.
"Oakland Literacy Coalition is an invaluable resource for our organization," said Jose Gordon, executive director of the Warriors Community Foundation. "The insights and connections they provide help ensure that our investments and programming in elementary literacy are impactful and aligned with community needs."
"We all work so hard throughout the year, we wanted to give people a chance to share their stories, successes and best ideas so that we continue to learn from one another," said Sanam Jorjani, the Coalition's co-director. "This enables us to innovate and partner in ways that have positive results for Oakland's children. So we formatted this year's event differently with nine short, TED-like talks on three separate stages to spark conversation and inspire ideas."
Here are a few highlights from the day's "Small Talks for Big Ideas" showcase: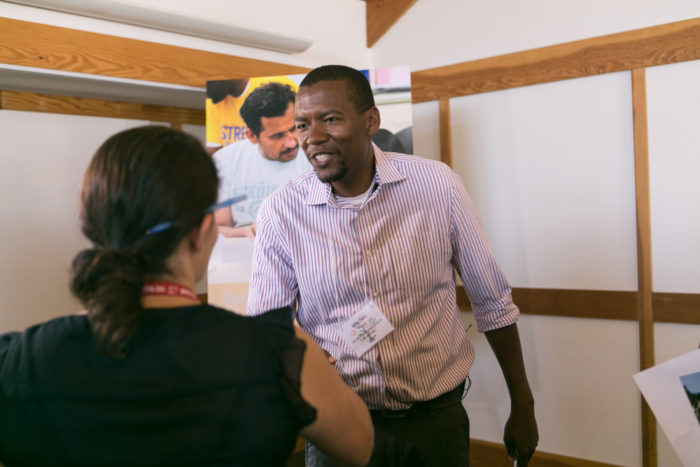 Inspiring Reading Through Culture
It was the story of one young girl, Vanessa, who witnessed her cousin's death, turning her inward and away from the world, which Macheo Payne, senior director of Education and Equity Initiatives at Lincoln began his talk.
Vanessa was enrolled in Lincoln's Freedom School program. She started each school day with a Harambee session, a circle of five to 13-year-olds shouting, chanting and dancing to let their frustrations, fears and voices fly. As a result of having a safe space to express herself in the Harambee sessions, she had risen to become a leader of the group – empowered to use her voice to inspire others. Vanessa had finally found her footing in the Freedom School, which helps children like her build their racial self esteem and make a difference in their communities. In just six weeks, students make reading progress equal to one year of school.
It Takes a Village
What do you do when only one-fifth of Latino and African American children read at proficient levels and there simply aren't enough childcare slots to serve them? "I thought, well, let's find them in doctors offices, parks and churches," said Jairo Guiza, a community literacy specialist at Tandem.
Tandem meets children and their families where they are. The organization partners with educators, community leaders and investors, and family support professionals. Through a series of workshops and training opportunities, partners gain knowledge and tools to support families and children. Tandem also provides direct support to families via Literacy Champions, their parent leadership development program that intensively trains parent leaders. These parents, in turn, train other parents in their own communities on how to use everyday moments to build children's early literacy skills.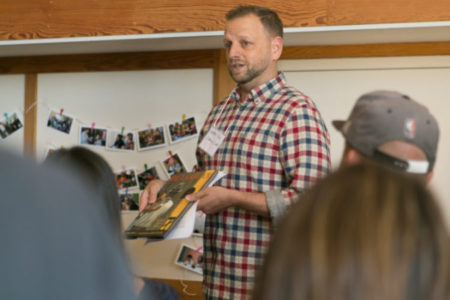 Engaging with Fathers
Men, specifically fathers, were the topic of Jethro Rice's talk.  Most of the participants – 90% – in Literacy Lab's free programs are women; men often don't have a chance to express themselves in a male-only space.  Jethro is the program manager at Literacy Lab.  He talked about the importance of giving fathers a safe space to share their fears and hopes for their children, and work through their challenges in a supportive environment.  In Literacy Lab's first 6-week fathers-only program, men were able to go deep and be vulnerable with one another.  They bonded over literacy activities, discussions about their experiences and participated in readings of father-son books.
These are only a few examples of the moving and inspiring talks we heard. The diverse program included talks from Oakland teachers, literacy specialists and non-profit leaders speaking on a range of topics such as such as diversity in hiring practices, working with homeless and highly mobile students and supporting refugee students by letting them tell their own stories.
These tried and true stories show how our collective effort is making progress with Oakland's children.
"Oakland Literacy Coalition is making actionable connections. We are making sure all kids get the same shot they deserve," said Paula Ambrose, program officer at Kenneth Rainin Foundation and Coalition board member.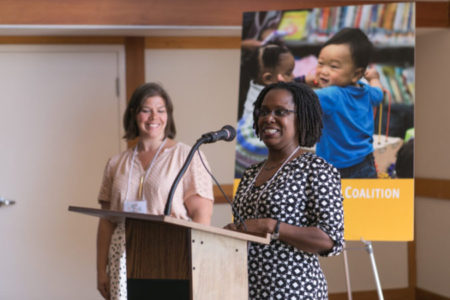 To round out the evening, we shared delicious victuals and libation and ended with a high energy performance and dance circle lead by Boomshake music.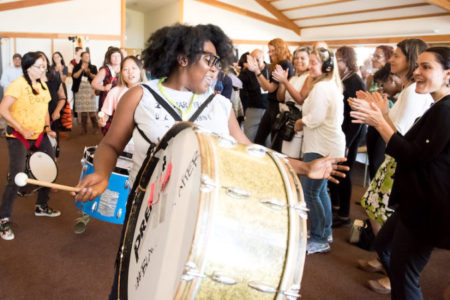 Thank you for making this year's event a wonderful celebration. We are grateful to all of you for the hard work you do every day, and hope to see you at next year's event!
Click to view the slideshow of event photos!
The Oakland Literacy Coalition would like to thank the Rogers Family Foundation and Autobahn Cafe for their support.  Thank you also to Chang Yi for the music.