May 14, 2015
OR2020 Annual Update on Pathway to Third Grade Reading Success
Share
Oakland Reads 2020 is proud to release the annual grade-level reading update for the 2013-2014 academic year. Following up on the spring 2014 release of the Baseline Report, this year's report looks at key indicators across the Oakland Reads 2020 domains of reading success. Each section shares critical data points for student success in Oakland, make the case for using data to drive outcomes, and share highlights for collaborative action already taking place.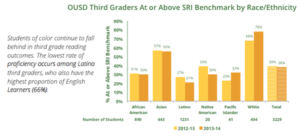 Data to Drive Results
We hope this grade-level reading update will be useful to our Oakland community and partners in furthering our third grade reading agenda by serving as a tool to drive strategies and interventions, address disparities, and improve outcomes for all Oakland kids. Each section captures and disaggregates data on key indicators, showing where gaps continue to persist. We know we will need to deepen our commitment and accelerate action in order to keep kids on track for a successful future. At Oakland Reads 2020 we continue to highlight data to inform action across our city, and use data to determine our priorities, investments, and promising partnerships.
While we have yet to see overall gains in third grade reading, we are committed to bring a contextualized picture of student outcomes. Data disaggregation helps underscore student groups that are most in need of additional support and intervention. Reading success data shows that students of color continue to fall behind in third grade reading. This is consistent with school readiness figures, further demonstrating how the readiness gap can continue into third grade and beyond.
Collaborative Action
Addressing persistent disparities will take collective action. Our report highlights some promising collaborations and the varied efforts in Oakland to close gaps and improve outcomes for all. Our Oakland Reads 2020 Community Campaigns are designed around the principles of partnering for action and providing opportunities for organizations and individuals from across the city to engage in our grade-level reading work.
Help Spread The News
We've created easy to share graphics and key messages to help you spread the word through your social media networks. Whether you're all about summer, getting kids to school, making sure kids are ready to learn, or supporting early elementary learning, we hope you'll join us in spreading the message that third grade reading success matter for all Oakland kids.
Let us know how you're working to improve third grade reading outcomes for Oakland kids!
You can find Oakland Reads 2020 on Facebook and Twitter.  To find us on Twitter, use the handle @OaklandReads and try these hashtags to join the conversation: #literacy #oaklandreads #oakland #readingbythird #GLReading
Get up to date on #GLReading in Oakland!  @oaklandreads has released their Annual Update bit.ly/1Pzi00z #OaklandReads
Find out more about grade-level reading in #Oakland with the #OaklandReads Annual Update bit.ly/1Pzi00z
Find out more about school readiness in #Oakland with the #OaklandReads Annual Update bit.ly/1Pzi00z
#ThoughtoftheDay removing persistent gaps in #GLReading takes us all @oaklandreads bit.ly/1Pzi00z
Find out what #Oakland is doing to improve third grade reading @oaklandreads bit.ly/1Pzi00z @readingby3rd bit.ly/1Pzi00z
A special thank you to Urban Strategies Council and the many partners who provided data, guidance, and expertise for this report.