May 20, 2022
Member Spotlight: Oakland Public Education Fund
Share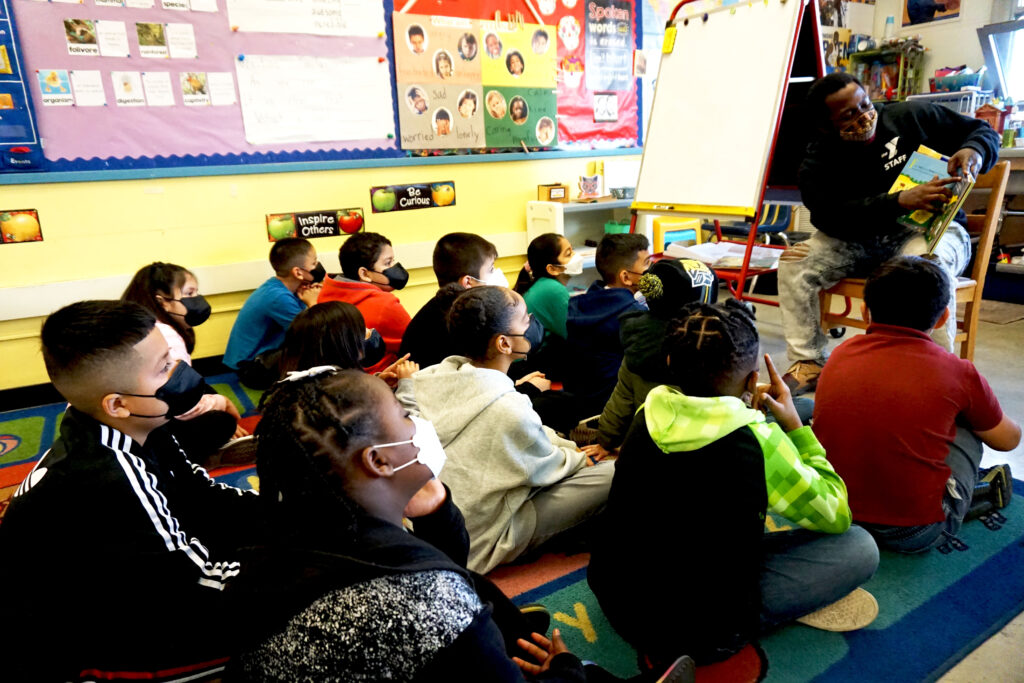 Written by OLC Staff
May 20, 2022
The Oakland Literacy Coalition is happy to be in collaboration with the Oakland Public Education Fund (OPEF), a local nonprofit that has been a member of the OLC since last Fall.  From the various read aloud events organized by the Oakland School Volunteers to the Community Wellness & Learning Hubs Initiative, the OPEF works to invest community resources in Oakland public schools so that all students can learn, grow and thrive. We got the chance to hear from Theresa Giacoman, Program Manager of The Oakland School Volunteers at OPEF who shared a little more about the OPEF, programming that is coming up, and thoughts on literacy as a driver of social change!
Oakland Literacy Coalition (OLC): How does your organization support literacy in Oakland?
Oakland Public Education Fund (OPEF): We are the nonprofit partner of Oakland Unified School District (OUSD). One of our programs is Oakland School Volunteers (OSV), which is the volunteer program run on behalf of the district. OSV clears volunteers, including literacy tutors/aides, so that they can support educator capacity and student achievement. We also coordinate 5 cultural heritage read-in weeks on behalf of the district each school year to engage volunteers, celebrate diversity & representation, and model the benefits of engaging read alouds.
OLC: What sets you apart from other organizations in your community? Or from other organizations with similar missions?
OPEF: We are the official nonprofit partner of OUSD. We fundraise for all schools, and we have many programs and other services to offer directly to OUSD schools and advance equity in the District.
OLC: What's on the horizon? What community programming or events are coming up that your organization is most excited about and why?
OPEF: During the first week of May, we are celebrating our 7th annual Asian Pacific American Literature Read-In Week with schools throughout Oakland. May is API Heritage Month, and volunteers will visit schools as special guest readers to read books by and about the Asian & Pacific Islander communities. Our next cultural heritage literature read-in week is our 5th annual LGBTQ+ Literature Read-In Week from June 20 – 24, 2022. Although this event tends to be smaller than others, we are excited to engage schools during the summer learning term in honor of Pride Month. 
OLC: Is there anything that you wish more people knew about your organization or the issues you are trying to solve?
OPEF: The Ed Fund offers a range of programs and services to support public schools. At times, we are assumed to be part of OUSD, since we work so closely with district & school leaders, which can be confusing to the community. This model of a fund or foundation partnering closely with a public school system is one that exists throughout the country. Our goal is to advance equity and contribute to closing the opportunity gap. 
OLC: What are you most looking forward to as a member of the Oakland Literacy Coalition?
OPEF: We are looking forward to more connection, mutual learning, and collaboration!
OLC: Could you share an anecdote/experience about working with a student or teacher that really stood out for you?
OPEF: A quote from a principal about one of our read-ins this year: "I've been in classes this morning and it went/ is going so well!! The books people chose are amazing. This is such a powerful experience for our students and I appreciate you coordinating it and all the volunteers who were able to read today."  – Principal 
OLC: The literacy crisis is real and impacts us all at the local, state and national level. With that said, what does Literacy & Justice for All mean to you?
OPEF: Literacy outcomes are connected to so many lifelong outcomes and are great predictors in terms of the quality of life folks will have. Literacy & Justice for All means that every child has access to a strong literacy foundation via equitable funding (extra funding for schools with high populations of systematically oppressed students), high quality early education programming, and rigorous, high quality curricula, regardless of what neighborhood they live in or school they attend. 
Learn more about the Oakland Public Education Fund here and follow them on social media!