February 22, 2022
Introducing School Library Partnerships Program Manager, Allyson Bogie
Share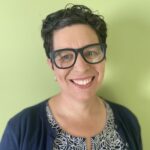 Allyson believes that books can give you a home, show you the world, and help you understand who you are and why you matter. She discovered her passion for education and working with young people as a teenager and has worked in schools and youth programming for most of her life. Allyson has worked as an educator for seventeen years, starting as an elementary classroom aide with Americorps in San Jose. After four years teaching English at Roosevelt Middle School in Oakland, she has been the district librarian and a teacher librarian in West Contra Costa for twelve years.
In Allyson's experience, a thriving school library is an essential ingredient for every school. She believes that schools have a responsibility to provide equitable access to high-quality books, information literacy instruction, and safe nurturing library spaces. Allyson is thrilled to lead the integration of the Friends of the Oakland Public School Libraries into the Coalition, and to deepen the relationship between Oakland's school libraries and the literacy work across the city.
Allyson holds a B.A. in Sociology from Smith College and a Masters in Library and Information Science from San Jose State University.
Allyson grew up in Oakland and still has her original Oakland Public Library card. She now lives in Berkeley with her family and when she's not working, she can be found reading, baking cookies, or walking among the redwoods.
Allyson will begin as Program Manager in July 2022 and will begin on-boarding this spring.
Dagmar Serota, FOPSL's former Executive Director, will continue working to support OUSD's libraries as the Chair for the Oakland Literacy Coalition's School Library Advisory Committee to ensure institutional knowledge of our programs remains available to Allyson and the OLC.
From Dagmar: "It has been my honor to have led FOPSL and its dedicated volunteers. I had big shoes to fill when Kari Hatch, our former Executive Director, retired after leading the organization since 2012. We are very proud of FOPSL's accomplishments over the years:"
FOPSL noticed, in 2013, that the Measure G Oversight Committee had not been meeting as required by the 2008 parcel tax. In response to FOPSL's inquiries about Committee meetings, the Board of Education reconstituted the Measure G Committee which tracks how Measure G money is being spent by the District.
FOPSL worked with District Librarian, Ann Gallagher, and 24 OUSD schools to reopen their libraries.
FOPSL helped author and advocated for the Board of Education policy 6163.1, passed in March 2017, calling for school libraries in every school.
FOPSL worked with the District to create the first Library Tech co-hort, provided cohort members with stipends to defray costs of attending the program, and advocated for promised salary increases.
FOPSL was an advocate and primary outside fundraiser for the OUSD Digital Library (Sora), raising over $115,000 for the Digital Library (thus far).
FOPSL created the Books Kids Want to Read grant fund, which last year, made record grants of over $26,000 to 22 OUSD libraries and has provided over $75,000 in grants since the program's inception.
FOPSL's Library Book Donation Program (libib) has donated over 3,000 new and gently-used, shelf-ready books to OUSD libraries since we started the program in late 2020, during the pandemic, and has provided over 700 books in just the first six weeks of 2022.
FOPSL volunteers have processed 1,700 books for OUSD libraries since the program began in February 2021, donating all processing materials.
FOPSL volunteers have donated more than 25,000 hours in support of OUSD libraries.
Allyson's understanding and love of school libraries and enthusiasm for her new role make her the perfect person for this next phase in FOPSL's evolution.