August 22, 2016
Giving Eastmont Families a Jump on School
Share
by Jessica Scadron, MDC Network
"The colored pencils are my favorite," said Talia, a soft-spoken, excited 8-year-old with wide eyes and a long, dark ponytail. "I have always wanted these. I will draw trees, leaves and a kite with them."
Talia was attending the third Oakland Reads campaign community literacy event hosted by the Oakland Family Resource Center of Children's Home Society to promote literacy in the Eastmont area of Oakland. The Center is a nonprofit agency that supports families with childcare, childhood development education, food stamps and other services. It helps the predominantly African American and Latino families find more solid footing in their lives. One-third of its resources are devoted to early literacy.
The back-to-school event took place on August 10th at the Oakland Public Library's Eastmont branch located in the Eastmont Mall.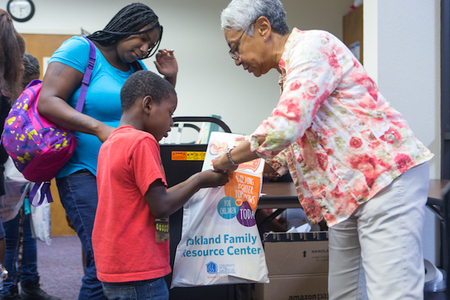 The excitement in the air was palpable. Nearly 150 children and their mothers were packed into the library's interactive play area to collect their free school supply kits packed with pencils, eraser, spiral notebook, folder and index cards. Free snacks, a free clothing give-away and a chance to win raffled backpacks were other attractions drawing the throng of families.
"Research shows that early intervention redirects the trajectory of someone's life," said Mayra Esparza, program manager at the Center. "Most schools require school supplies that many families can't afford. We make these items available for free. We hope to take the stress off families and give kids a head start to the school year."
Tyrone from Pull Up Your Pants Barber Shop was onsite with his mobile barber kit giving kids free haircuts. "A regular haircut is something our less fortunate families are often not able to get," said Tyrone. "Kids feel good with a haircut – it's self motivating."
The noise level wasn't what one would expect in a library. Nichole Brown, the librarian, is largely responsible for changing how the community thinks about what libraries should be. "We're building community in a non-traditional way," said Nichole. "We want people to interact with us and each other, and engage in the activities we offer. People don't see the library as a destination, but when they get here, they see the benefits and they keep coming back. They're relieved to have a safe place where no one cares where they're from or how they got here."
At only .2 square miles, with a population of roughly 3,500, the Eastmont area of Oakland is the second highest stress neighborhood in Oakland. Its citizens face extreme levels of poverty, unemployment, displacement and illiteracy. This makes the Center's presence critical to the families who live here.
To produce this event, the Center received their third grant from The Oakland Literacy Coalition (OLC) through the Summer Reading Grants program of the Oakland Reads campaign. Without it, the Center wouldn't have been able to produce such a large-scale event. The funds were used to purchase materials and supplies, and to do outreach for the event. And through promotion of the event, individuals from the community donated an additional 50 school supply kits allowing the Center to give kits to 125 children.
In addition to partnering with the library, the Center also worked with East Bay Children's Book Project to provide a free, new book to each child. These are the types of collaborations that accelerate progress, supporting more Oakland kids to read well.
"We were thrilled to provide the Center with a grant for this event," said Cassie Perham, Co-Director of the Oakland Literacy Coalition. "A main goal of the Oakland Reads campaign is to partner with programs that have strong relationships with Oakland families, and support them to connect families with literacy resources and books."