April 6, 2019
Community Announcements
Share
Storyland: A Family Literacy Festival 
Alameda County Office of Education
For Alameda County children entering pre-kindergarten (pre-K), transitional kindergarten (TK), or kindergarten (K) in the fall and up to two accompanying adults.
Adults will learn strategies to combat "summer slide" and receive resources on how to access free books through local libraries and online.
Early learners will experience interactive read-alouds based on stories in English, Mandarin, and Spanish. Books, activities, and raffle prizes!
Saturday, June 1, 2019
Session 1: 8:30-10:30 A.M. OR
Session 2: 11:00 a.m. – 1:00 p.m.
LGBTQ+ Family Pride Celebration
All families are welcome to join this East Bay Family Pride Party in Dimond Park!
Featuring:
Come celebrate Pride on the sunny side of the bay!  Saturday, June 29, 2019 – 10:00am – 1:00pm at Dimond Park (3860 Hanly Road in Oakland.)
Presented by the Oakland Public Library in partnership with Dimond Parks and Recreation
Family Laundry 
(posted 5/22/2019)
Family Laundry is excited to announce adult ESL classes in Family Laundry's
community room starting June 11th. We will offer classes two days a week in the
months of June and July, Tuesday mornings 9-10 am and Wednesday evenings 6-7pm;
you can choose to come either Tuesday or Wednesday. These classes are FREE,
spaces are limited.
The classes will be taught by Tonya Amezaga, an experienced ESL teacher. A
certificate of completion will be given to those who attend ALL of the classes, 7 classes
in total.
Please email me at laura@familylaundry.com if you are interested and can commit to 7
classes.
——
Nos da gusto anunciar el ofrecimiento de clases de inglés para adultos dentro del
cuarto comunitario de Family Laundry, empezando el 11 de junio. Vamos a ofrecer dos
clases por semana con la opción de venir los martes de 9-10am o los miércoles de
6-7pm. Las clases serán GRATIS, las plazas son limitadas.
Tonya Amezaga, maestra de inglés como segundo idioma, enseñará las clases. Tonya
tiene años de experiencia en la enseñanza de inglés para adultos. Un certificado se les
dará a los estudiantes que terminen en programa, 7 clases en total.
Por favor de contactarme por correo electrónico, laura@familylaundry.com, si está
interesado y puede comprometerse a asistir 7 clases.
Summer at Oakland Public Library 
Oakland Public Library
(Posted 4/25/19)
Explore, Connect and Grow with Summer Programs for Adults, Teens, and Children!
2019 Summer Reading runs June 1, 2019 – August 3, 2019 
Sign up here to start reading!
OPL's Kids' Summer Reading rewards children for reading or listening to books or other materials that they pick out themselves.   Kids who read 20 days during the summer will receive a free book and are eligible to win other prizes. 

Special grand prize drawings include a family stay at the Oakland Feather River Family Camp, one family membership to Children's Fairyland (ages 0-4) and one iPad (ages 5-14). Visit the link here to register!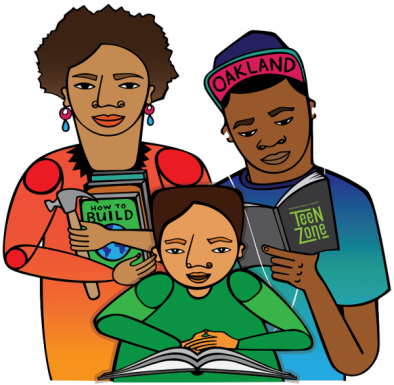 Want to Share an Announcement? 
Are you part of the Member Network and interested in sharing your event with Oakland Literacy Coalition's vast network of educators, volunteers and leaders in Oakland and throughout the Bay Area? Organizations in our Member Network can now submit content to be featured in our monthly newsletter and blog!
The Oakland Literacy Coalition newsletter provides members the opportunity to promote their free community events and job postings with colleagues and other leaders in Oakland and beyond. Information will be posted to our website blog within 48 hours and included in our monthly email round up, sent at the beginning of each month.
Here is what we need:
• Free resources or events (no fundraisers or goods for sale).  (Member Network organizations may place paid fundraisers).
• Please include a short description with a brief summary explaining what it's about and why it's relevant to other members and colleagues in the field.
• Please include a link to the event page or landing page.
• Maximum length: 100 words
• Please submit no less than 3 weeks prior to your event date.
Please use this form for announcements, jobs, and news.