March 22, 2018
Chapter 510 & the Dept. of Make Believe
Share
Member Spotlight: Making Writing and Make Believe
Chapter 510 is a made-in-Oakland youth writing center working with young people aged 6-18 so they can create, refine, and publish their own words. Chapter 510 believes writing and publishing stories transforms young people and their communities for the better. Young people who get writing support gain confidence and skills to pursue greater opportunities in school, work, and life!

We sat down with Founder Janet Heller at Chapter 510 to learn more about their organization. Chapter 510 has been part of our Member Network since this past December. They know that writing is key to literacy and we agree!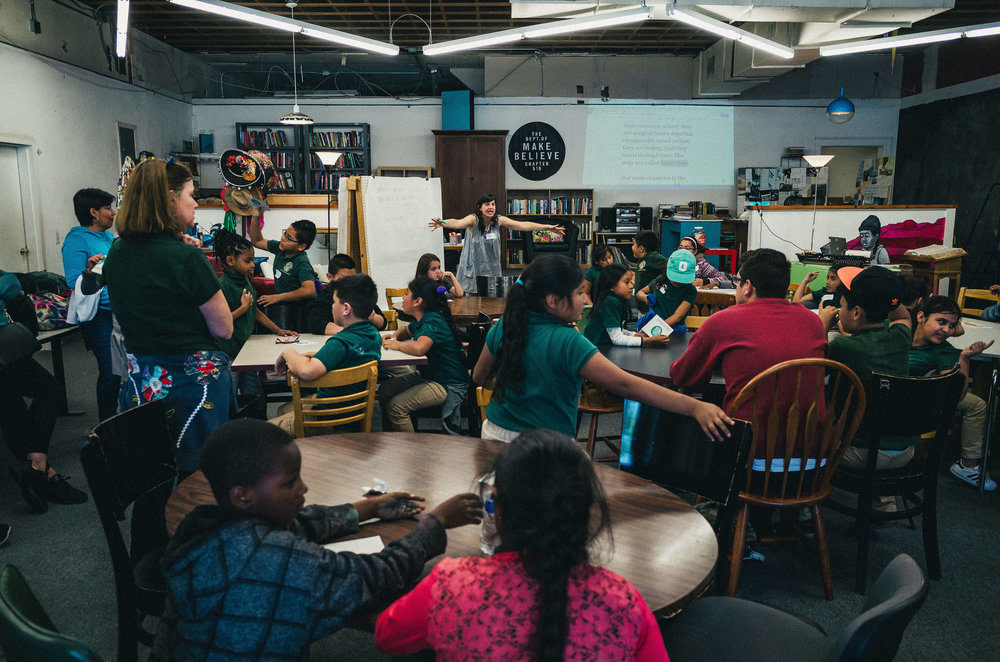 Co-founder Tavia Stewart inspiring OUSD students to write and be brave.
Tell us about what you are committed to as an organization.
Side-by-side with local educators, our teaching artists and volunteers provide a supportive community and safe space for young people aged 6-18 so they can bravely write and publish their own words. We are committed to publishing books in translation and using book arts practices to create handmade books for families to cherish.
What creates the magic of Chapter 510?
Our writing center makes the magic happen!  Students, from the time they enter our space for a field trip go "What is this place?!", "This is heaven!", "I don't want to leave!", "I like to write now." Most writing happens in small, cramped spaces. Our 1,400 square foot writing center has funky tables, comfy chairs, and a stage where kids can run around, write stories, make books, and put on a costume if they want. Parents, teachers, and other adults come in here and love our vibe. I think we've hit the mark in making Oakland's sweet spot for creativity.
Students, from the time they enter our space for a field trip go "What is this place?!", "This is heaven!", "I don't want to leave!", "I like to write now." 
On taking a leap of faith…
Our high school interns made our writing center happen!  
Between May and August of 2015 we were temporarily popping up at the well-known collective arts space Rock, Paper, Scissors. We were just in our second year of programming. When architect-owners Erik Bloom and Todd Bennett (Parcel Projxts) bought our building, they reached out to every non-profit in the neighborhood with a spirit of generosity and collaboration. "Hey we just bought this building would you like to partner with us and activate this space as a community resource." We said, "Fantastic!" At the time we did not have the rent money or long term funding. It was our high school interns that said, "This is the space that you guys need. You might not have the money to fix it up or open the doors yet, but this is your space." That was our "Aha" moment because they saw it, and we were scared because we saw it too but we didn't have a way to pay for it. We knew that if we went for it and took this big sanctuary we knew we could make it happen. It was an opportunity where you have to close your eyes and jump and we are very happy that we did.
Why did you join the OLC Member Network?
Chapter 510 recognized that there were many excellent literacy programs in Oakland and that we could learn from the expertise in the field. OLC has done a great job of sharing best practices and informing our program about changes in local education and how we can align our services with the greater community.
Wanna see more from Chapter 510?  You can check out Chapter 510 at the next Oakland First Friday April 6th from 6:00-9:00 PM for their Open House & Open Mic or visit them online.
This blog is a feature highlighting our OLC Member Network in action. We know that building a future where every Oakland child learns and loves to read will take all of us. That's why we've built a thriving network of organizations to learn, collaborate, and champion literacy.  Learn More about our Member Network by visiting our website.  For questions about the Member Network, contact Sanam Jorjani at Sanam@Oaklandliteracycoalition.org.