Reading Everywhere Book Distributions
HELPING READING HAPPEN EVERYWHERE
The Oakland Literacy Coalition works to ensure that all students have access to high quality books and literacy-rich environments at school, home, and across the community. All young people deserve to have books that they enjoy, see themselves and their experiences reflected in, and that spark their curiosity and love of learning.
We curate, source, and distribute books to teachers, school libraries, and community partners to share with their students and families.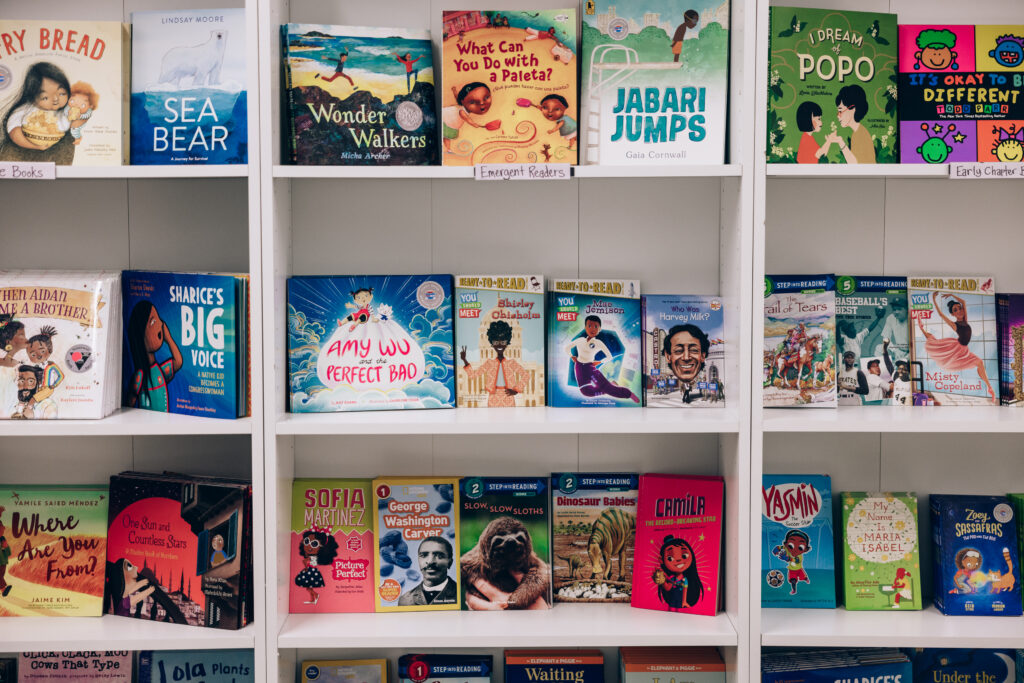 Current Opportunities for Books:
Mathical Books for Classrooms & School Libraries
The OLC is teaming up with the Mathematical Science Research Institute (MSRI) and Bring Me A Book to distribute sets of Mathical award-winning books to TK-12th grade teachers and school libraries in Oakland Title I schools.
The Mathical Book Prize is an annual award for fiction and nonfiction books that inspire children of all ages to see math in the world around them. Each year's selections join a growing list of stories ranging from picture books and graphic novels to chapter books and young adult literature.
We will distribute 130 sets that will include 10 Mathical books and a book cubby in which to store them, to help promote math as an exciting subject that's more than numbers and equations. Books are divided into grade level sets:  TK-2nd, 3rd-5th, and 6th-12th.
Who Should Apply?
Applications are open to classroom teachers and library staff at Title I OUSD or public charter elementary, middle school, and high schools in Oakland.
We will accept applications on a first come, first served basis.
Important Details
The Mathical books, TK-2nd, 3rd-5th, 6th-12th grade, are for classroom use and not for children to take home. 

We will provide you with a reference guide with teaching resources to give you more ideas about how to use the books to help students see math everywhere.

You will be asked to complete a very short response on how you used the books and cubby.

Community organizations and nonprofits that run school-based programs are not eligible for this distribution.
How to Apply
Interested teachers are asked to submit a brief online request form which you can find by clicking on "Apply for a Mathical Book Set" below.  We can be reached by phone at (510) 280-3547 or by email at julia@oaklandliteracycoalition.org. Please reach out to us if you have questions!
Key Dates
The Books
Use these links to explore the books in each of the book sets.
TK-2nd Grade Book Set:
3rd-5th Grade Book Set:
6th-12th Grade Book Set: