May 17, 2022
Little Town Libraries Launch
Share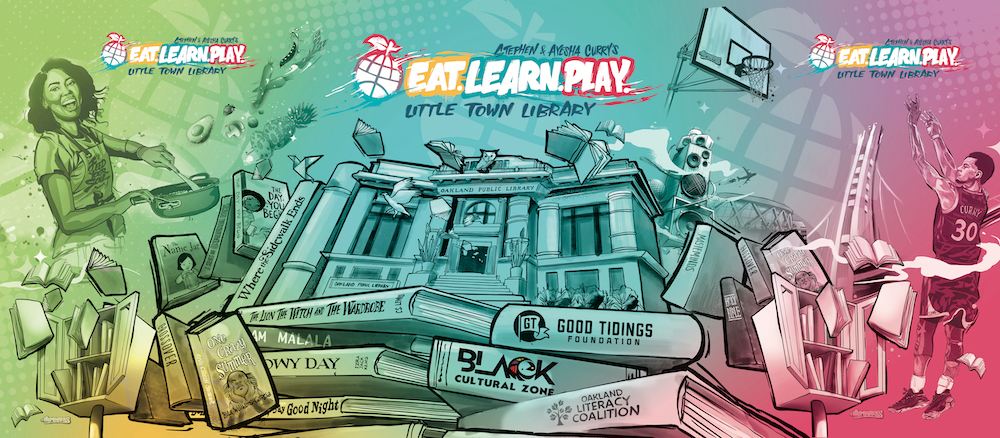 A community-wide effort to place 150 Little Town Libraries and fuel a love of reading in The Town.
The Oakland Literacy Coalition is thrilled to be partnering with Stephen & Ayesha Curry's Eat. Learn. Play. Foundation, the Black Cultural Zone, Oakland Public Library, and many other community partners to: 
Distribute new, high interest, and culturally relevant children's books because #ReadingIsLiberation

Celebrate and develop a love of reading EVERYWHERE — at the park, a bus stop, a community organization, a liquor store, outside a school, and more

Meet kids and families where they are by making books literacy resources accessible to Oakland flatland neighborhoods 24/7
What's a Little Town Library?
Little Town Libraries are modeled off of the Little Free Library movement, where volunteers host book boxes in front of their houses or organizations. Anyone is free to take a book or leave a book. We love Little Free Libraries vision statement: "Our vision is a Little Free Library in every community and a book for every reader. We believe all people are empowered when the opportunity to discover a personally relevant book to read is not limited by time, space, or privilege."
In Oakland, our Little Town Libraries will be wrapped in a beautiful design by the Illuminaries, and will be stocked with new, high interest, culturally relevant children's books for families with kids 0-18. We'll have books in English, Spanish, Chinese, Arabic, Vietnamese, Mam, and more.
Little Town Library Ambassadors – Join the Movement!
Ambassadors will host a Little Town Library in front of your home or organization, keep it stocked with books provided to you, and spread the word to neighbors about this resource. If you already have a little lending library, you can sign up for a replacement (if needed) or to get books to keep it well-stocked. You don't have to have any special qualifications, literacy level, or education to be an ambassador — what matters is your commitment and motivation to be a champion for reading.
If selected, you will join a community of Town Literacy Heroes, and we will support you with how to videos and resources to promote literacy in your neighborhood. Our Little Town Library partnership will handle all the library box installation and maintenance.
You can also sign up for the Little Town Libraries mailing list to learn more about this project and get updates: